I recently treated myself to a Bearaby Napper, and I couldn't be happier. I had a weighted blanket from a different company previously, but I wasn't a fan of it as I always woke up sweaty and uncomfortable. My Napper feels considerably quieter and softer than my last blanket too, which is probably because there are no plastic beads inside it and it's made of lovely, soft fabric.
Bearaby Napper Weighted Blanket Review
So in liking my own Napper so much, I decided to review both the Cotton and the Tree Napper (two different weighted blankets that Bearaby sells online) to see what the differences were and to see if they both work in the same way.
The Napper does exactly what it says it should – when I have it in bed with me, I sleep much deeper at night, and even just having it on my lap makes me feel calm and comforted.
It's also surprisingly cool – the loops allow air to flow freely, and the airy fabric is also highly breathable. No plastic means less uncomfortable heat!
It works, and in my opinion, is worth the investment. The company is also great, which I came to find out.
The Bearaby Brand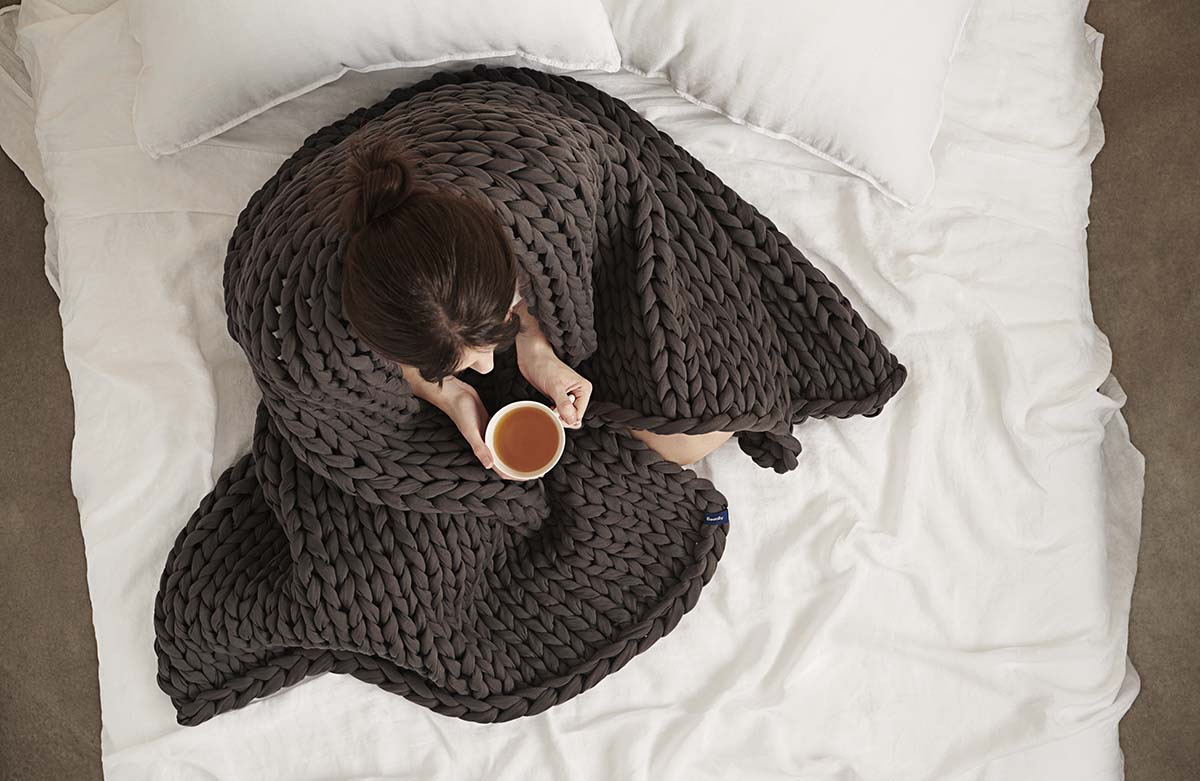 Bearaby was created with one mission in mind — to bring the amazing medical benefits of weighted blankets to the masses, and to do it all in a way that's kind to planet Earth. That means plant-based fabrics, zero plastic anywhere, and a commitment to natural slumber – to make great sleep simple and drug-free.
Bearaby offers two different types of weighted blankets–called Nappers–and a weighted comforter. In this review, I'll focus on both Nappers, The Cotton Napper, and The Tree Napper. Both are hand-knit and super stylish, with some differences in their materials, which I'll get to.
Design – Breathable and Hand-Knit Beauty
The first thing you'll probably notice about the Napper is its chunky-knit design. In fact, every blanket is hand-woven and completely unique. The yarn is cozy, soft, and really heavy! I was definitely surprised by the weight because it looks like a 'normal' knitted throw you'd have on your living room couch.
The best part about the yarn is that it's the only thing making the blanket heavy. When I first saw it, I wondered: where's the weighted material, and what is making this blanket so heavy? It turns out, Bearaby uses a patented process to create their weighted yarn, which is made up of nothing but layers of fabric.
This is unlike all the other weighted blankets out there, which are made with sewn-in pockets filled with weighted materials, like plastic pellets or beads.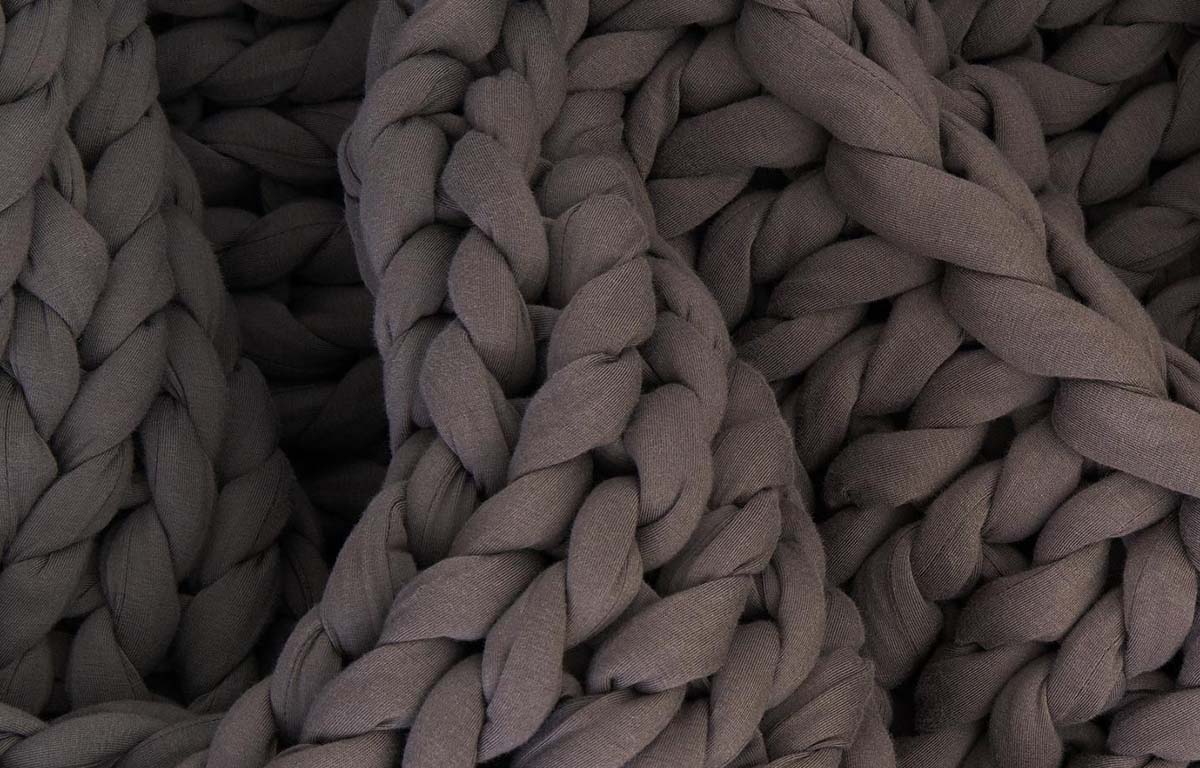 The hand-knit design of the Napper means more airflow through the fabric, making it more breathable and cooling throughout the night. And did I mention too, that no beads moving around means nothing but silent slumber?
How do weighted blankets work?
Weighted blankets use something called deep touch pressure (DTP) to help you feel more relaxed and sleep soundly. It's simple science with amazing results. When pressure points on our bodies are activated (think: a deep tissue massage or really tight hugs), DTP works to calm the body and make you feel happy, sleepy, and less anxious.
DTP increases the production of certain hormones we do want, like serotonin and melatonin, while reducing ones we don't want, like cortisol (which is also known as our stress hormone). Serotonin is one of our happy hormones, and it also helps to promote sleep and relaxation. The Bearaby Nappers are designed to maximize the benefits of deep touch pressure.
The Napper feels like it's melting across your body, hugging you all over. You can see firsthand that the weight is being evenly distributed, which determines if a weighted blanket is actually working as it's supposed to.
Bearaby offers two different versions of its Napper. Both work the same way, but there are some clear differences too.
What are the differences between the Bearaby Tree Napper and the Cotton Napper?
Both blankets are soft, very breathable (which comes down to the natural fabric and knitted design), and both deliver the ultimate benefits of their weight. It's hard to tell the difference between them upon first glance, but when you get under them and you can feel the fabric on your skin you can definitely tell that the Cotton Napper is the soft, cozy one and the Tree Napper is the cool, airy one. They're both soft, breathable and cooling, but Tencel (which is what the Tree Napper is made of) is that extra bit cooler, as it's made from tree pulp derived from the eucalyptus tree.
In both blankets, the weight is evenly distributed over your body, and air is able to circulate in and around the weaves. So you get the benefit of Deep Touch Pressure without the common complaint of overheating, which is often the case with traditional weighted blankets.
Bearaby Weighted Blanket Materials and Fabric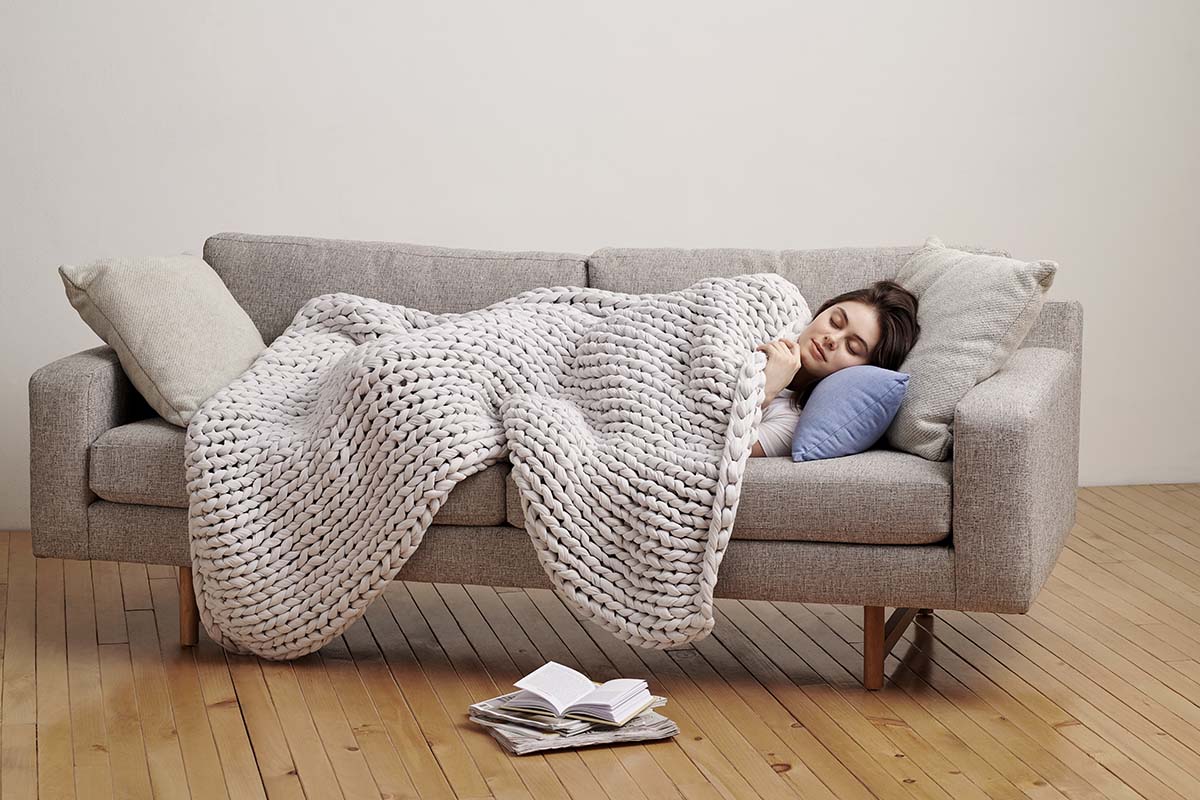 As part of their continued commitment to sustainability, Bearaby steers clear of using any artificial materials, meaning their blankets are always 100% natural. They guarantee that you'll never get too hot or wake up feeling uncomfortable.
Tree Napper Material: Tencel
Tencel, also known as lyocell, is a sustainable material made from the wood pulp of trees (hence the name Tree Napper), and it's known for its super smooth feel. Bearaby's Tencel is sourced from eucalyptus wood pulp, making it extra cooling and completely biodegradable.
Based on its smooth fiber surface, Tencel is able to absorb moisture really well – it's actually 50% more absorbent than cotton. So it's breathable, breezy, and moisture wicking, for those that are prone to overheating during the night.
I'm a big fan of Tencel because it's made in a process that uses 10 times less water than traditional fabrics. By using Tencel, Bearaby developed a product that is fully biodegradable in soil and water, which is unlike any other weighted product I've come across and feels like a revelation.
Weighted blankets are typically made with synthetic materials, like polyester. This not only makes them hot and uncomfortable, but absolutely terrible for our environment. At the end of their lifecycle, they'll sit in landfills and never break down!
All other weighted blankets are filled with some form of artificial filler, like plastic pellets, and made from synthetic fabrics. The Tree Napper is the only knitted weighted blanket made from layers of tree fabric, and nothing else.
Cotton Napper Material: Organic Cotton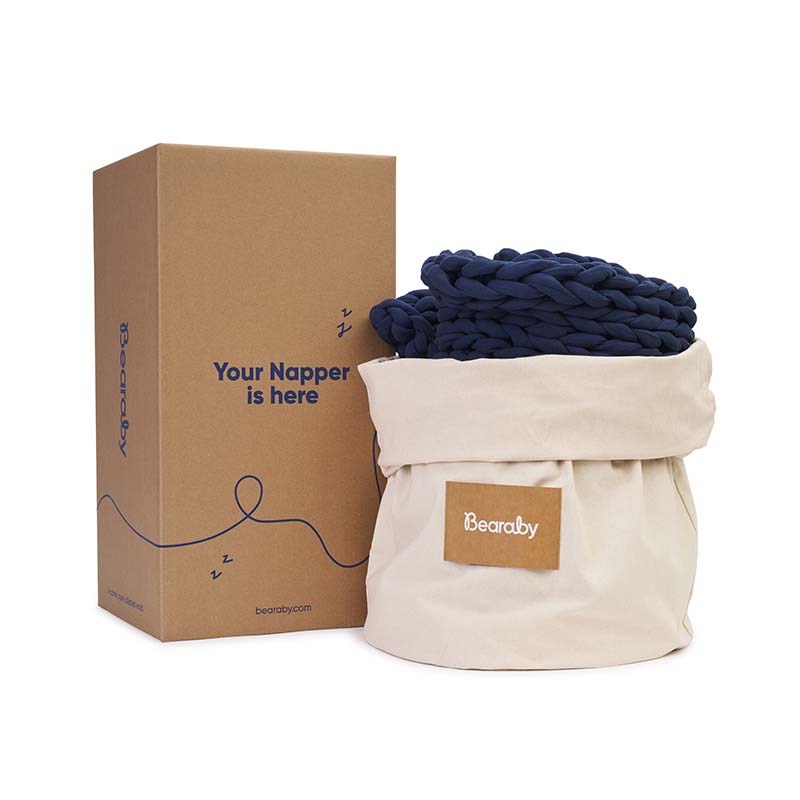 The Cotton Napper is the original Bearaby weighted blanket, and it is soft, breathable, and superbly cozy. I personally have the Asteroid Grey Cotton Napper, and I love how chic and stylish it looks thrown on my couch, or draped over the end of my bed.
Bearaby uses organic cotton that's sustainably farmed in India. According to their website, they've committed to using 100% organic cotton because it makes a better life for the people who grow it, and because it makes a better product for the people who use it. It also saves 90% of the water used in conventional farming methods.
The Cotton Napper is simply made from layers of organic cotton that have been knitted together into a chunky weave. That's it. No artificial fillers, no synthetic fabrics, no surprises! I love this commitment to comfort, and to the health and wellbeing of the people on this planet.
Which Bearaby Blanket Is Best?
The Cotton Napper or the Tree Napper?
While both Nappers use natural materials and are ultra-breathable, the slight difference between the Tencel and Cotton does affect the way it feels, and even though the difference is subtle, it might come down to your own sleep preferences for which one is a better fit for you.
If you tend to sleep hot at night, and often find yourself waking up feeling sweaty, then the Tree Napper is perfect for you. Tencel is slightly more cooling and more moisture-wicking than cotton. I tend to run hot, so I enjoy the cool and breezy quality of this blanket. And make no mistake — Tencel is super smooth, and the Tree Napper still feels very soft on the skin.
I'd say if you like things on the cozy side, don't normally get overheated in the night, and you want a Napper you can use all year round, the Cotton Napper is your choice. It's just as breathable as the Tree, but has a slightly softer, cozier touch.
Bearaby Weight Options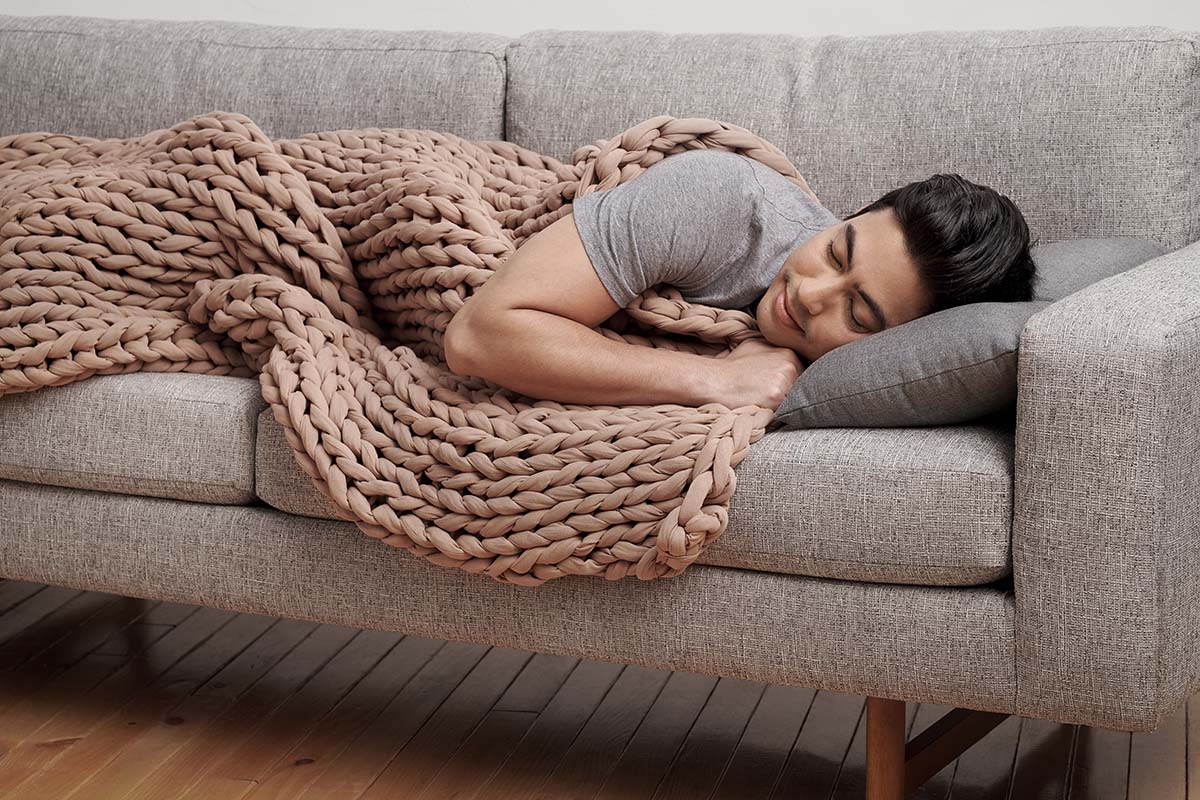 The Bearaby Nappers come in three different weights: 15, 20, and 25lbs. You're probably wondering: what weight is right for me? It's a common question, but it's actually really simple to figure out the answer using the '10% rule'. Just choose the weight that's closest to 10 percent of your own body weight. For example, if you're 150 lbs, go with the 15 lb blanket.
But don't worry if you're 'in-between' weights. I weigh less than 150 lbs, but I actually chose the 20lb blanket and absolutely love the extra weight. Often it's better to go with the blanket that's over 10 percent of your body weight to ensure you're still benefiting from the healing properties of deep pressure touch.
For me, the pressure of this blanket feels comparable to other blankets I've tested, but its hand-knit design is what sets it apart. Because there are no artificial materials inside the Napper, it's completely noiseless, as you never hear glass or plastic beads shifting together.
The Most Stylish Weighted Blanket
While I've talked about the unique look of the knitted weaves of the Napper, I wanted to also make sure I touched on all the various stylish colors the blanket comes in. They feel much closer to trendy fashion colors than the average weighted blanket, which seems to default to drab versions of grey or blue.
The Nappers come in various shades of bright, exciting colors, all inspired by nature. Some of the colors might not appeal to everyone, but I find them to be lovely and inspiring. After all, if you're going to invest in a weighted blanket, you don't want one that you want to hide away when your friends come over, you want to show it off! And I love that about the Napper line up.
Should I Buy a Bearaby Napper?
Now that we've taken a closer look at these weighted blankets, let's recap the highlights so you know if a Napper is right for you:
Eco-Friendly Fabric – If you're looking for weighted bedding made exclusively from natural materials, Nappers are the only ones I've found that are completely plant-based and organic. The Tree Napper or Cotton Napper are both great options, so go with your gut! The added biodegradability of the Tree Napper makes it my new environmental hero.
Hand Knit & Breathable – The hand-knit look and feel of this blanket gives it a unique style that really stands out from more traditional weighted blanket designs. Those wide loop weaves mean a lot of cooling breathability, which is really beneficial for those who run on the hotter side.
Easy to Wash – One of my favorite things about this blanket is that it's machine washable and dryable (unlike so many other weighted blankets I've ever tested that are spot-clean-only). Just use a cool, gentle cycle with a mild detergent, then tumble dry on low heat. Keep in mind, though, that it may take more than one dry cycle to dry it completely.
Anything Else I Should Know?
Weight Options – 15, 20, 25 lbs
Materials: 100% Organic Cotton and Tencel
Wash Care: Wash on cold, gentle cycle with mild detergent; tumble dry on low heat (repeat dry cycle if needed), or lay flat to dry.
Free Shipping – within the U.S.
30-Day No Hassle Return Policy – you have 30 days from when you purchase to return the blanket if it's not right for you
I hope my review has helped you decide whether you should go ahead and get yourself a Napper! I'm a fan, and I'm pretty sure you will be too!
Check out everything about weighted blankets on WeightedJournal.com.