Weighted Blankets For Kids:
The Best Blankets For Children
Weighted blankets have become quite popular, and many consider them a godsend for their toddlers and kids to get a good night's sleep. For the last couple of years, the amount of products that can be found on the market is endless, which can be overwhelming for an inexperienced customer. That's where we come in and try to save the day with our "best weighted blankets for kids" list – help you make the best choice for your budget and specific needs.
Weighted Journal is a website for blanket reviews that are un-sponsored, thoroughly researched, and as objective as possible. We've carefully tested each product we receive and we receive a lot! While some of them are not present on this list, we try to select the best of the best and recommend you only blankets that we would buy for our kids as well!
We've spent over two years now testing and sleeping under various types of blankets – from the cheap Chinese knock-off found in abundance on Amazon to the proper quality ones like Gravity and Bearaby, for example. We insist on testing every blanket that we recommend personally and we spend at least a week with it to make sure it stands the test of time. We've reviewed over 80 products over the last two years and we are pretty confident in spotting lousy craftsmanship or a cheaply made blanket a mile away.
Why would I need a weighted blanket for kids?
Suppose you are a parent with a child who is experiencing emotional distress, anxiety, ADHD symptoms, chronic insomnia, depression, or sensory issues. In that case, you might want to pay attention to your kids' sleeping routine. What we mean by that is:
Are your children waking up early?
Do they toss and turn throughout the night?
Do they stay asleep during the night?
If your kid is doing one or more of these things, it is recommended that you purchase a weighted blanket for them.
A good night's rest can make all the difference not only for your child but for any adult as well. Getting proper sleep at night will help your children be calmer, happier, and easily face the challenges they receive throughout the day. In this article, we will talk about the best weighted blankets for kids and how they may significantly improve your children's behavior, patterns, and habits.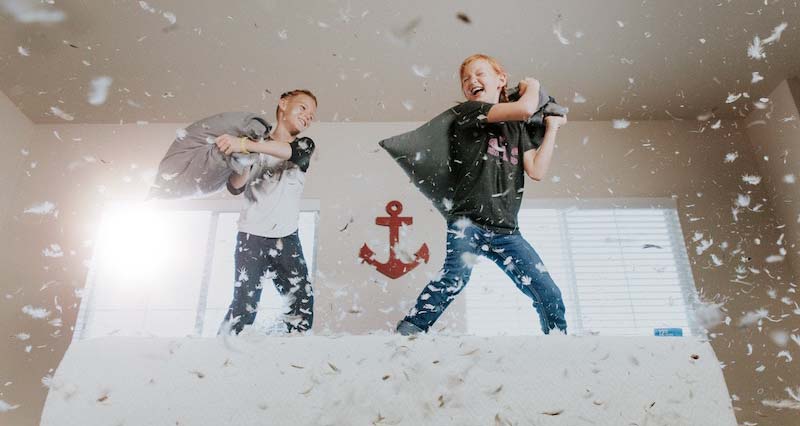 How to choose a weighted blanket for children?
There are a few things to consider when you're shopping for a children's weighted blanket – optimal weight, size, filling type, and fabric.
Choosing the correct weight
The general rule for choosing the appropriate weight is to aim for about 10% of your child's body weight, plus 1 to 2Ibs. This way there is some flexibility because most children's covers come in fixed sizes, such as 3Ibs, 5Ibs, etc.
Let's say you have a toddler that's 30Ibs, what you want is a 3Ibs blanket, but if you're a parent of a 100Ibs teen, you'll need one that's at least 10 lbs. Sometimes you can go slightly heavier or lighter depending on the needs and preferences of each child.
Choosing size
This really comes down to personal preferences and the age/size of your kid. If they're toddlers or small children opt for a smaller blanket, if they are approaching their teen years a bigger blanket might be more appropriate.
Filling Choice
We've covered the best fillings for weighted blankets here but the general advice is to always prefer glass beads over plastic pellets. They're not just better for the environment, but also usually spread better and don't clump together like some of the cheaper plastic pellets do. The clumping of plastic pellets is pretty common with some of the cheap Amazon weighted blankets so we always recommend staying away from them.
Safety concerns
Even though we've talked to multiple occupational therapists and children's health experts, we ourselves aren't professionals, which is why we strongly suggest you speak to one before purchasing a weighted blanket for your child. You can make sure that one will be suitable and it may actually help your kid. We know how exhausting and emotionally draining sleep issues can be for both your children and you, and that's where these blankets come in and allow everyone to get better rest!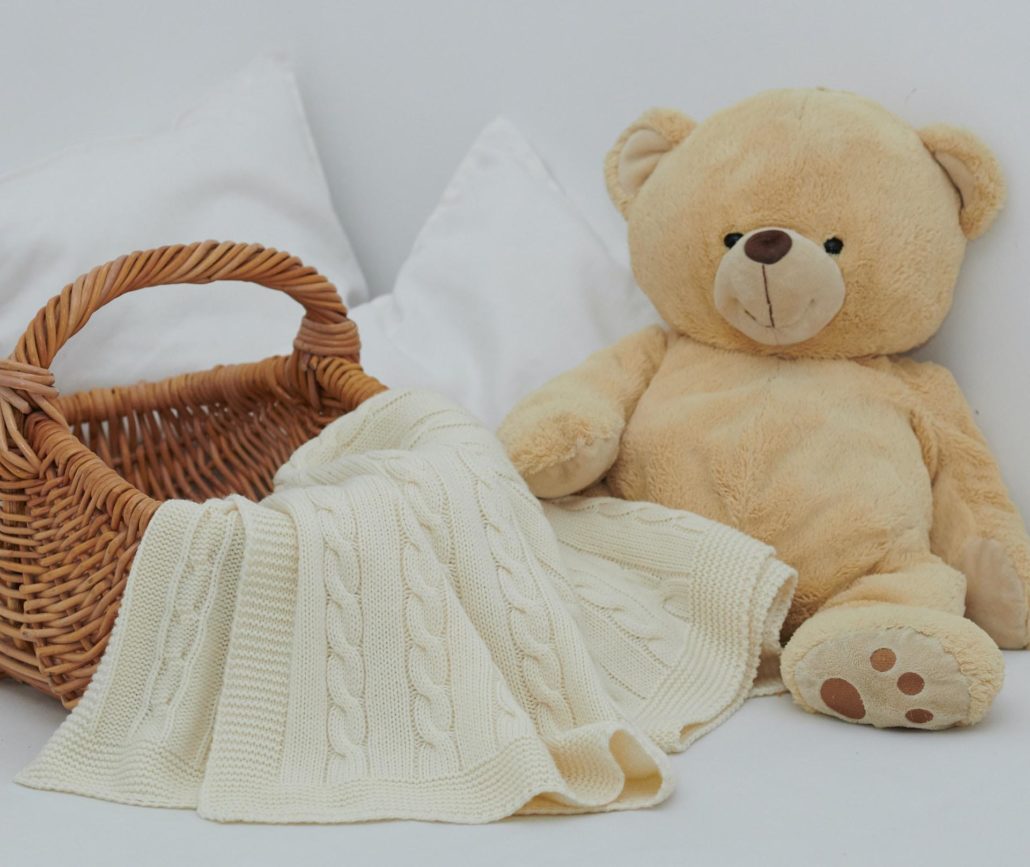 So what is the best weighted blanket for kids?
With the numerous options on the market today, finding the right blanket can be challenging and expensive! To save you a headache, we've carefully selected the best weighted blankets for kids, that may help them sleep better throughout the night and reduce their anxiety:
1. Gravity Kids – Our Favourite Weighted Blanket for Children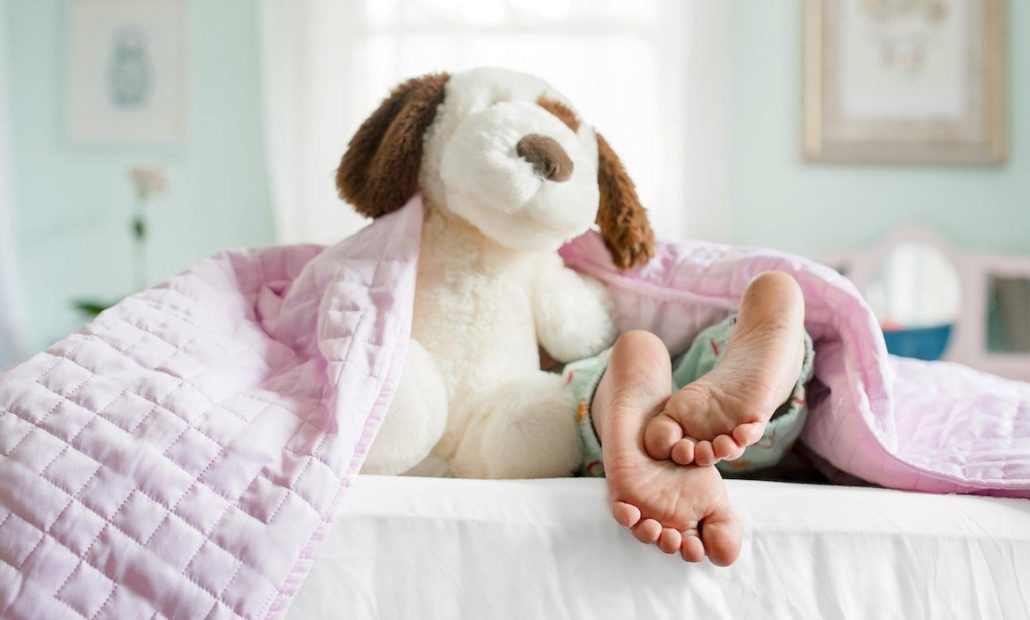 Gravity is a renowned and quite a popular brand lately and it is no coincidence that it is our favorite weighted blanket for children. It is truly one of the best products for a restless child and it will surely help your sleep better too.
The Gravity kids blanket, just like its adult counterpart, is a superb product made of the finest materials. The outer duvet cover is made of nice to the touch polyester fabric that keeps your child cool at night. The 100% polyester fabric is designed to keep moisture away and it will allow your child's body to breathe at night. The cover is machine washable for easy removal of stains and spills. The inner blanket, however, is not so it requires hand washing. The color options are two and they are both lovely pastel colors – green and pink.
The filling, just like any other premium weighted blanket, is made of fine glass beads. They will never clump together and they are distributed in individual pockets to prevent any grouping together. The fine pockets also ensure uniform distribution of the beads insight the blanket.
The Gravity children's weighted blanket comes in one size only – 66″ x 42″. This might be a bit small for bigger children, but it should be fine for most pre-teen kids. The small-ish size can make it the ideal travel companion if your child finds it hard to sleep without the newfound comfort of the Gravity blanket.
The weight options are also a bit limited – there is a single weight option of 10lbs, which should be sufficient for most pre-teen kids and smaller teenagers. The added bonus is that Gravity decided to include a free toy – the blanket comes with a 3lbs weighted toy for your little one to snuggle with at night.
Overall, the Gravity kids is an excellent choice for most kids 7 and up all the way to pre-teens and teenagers. It is a bit on the pricey side, but the quality, in our opinion, is well worth the price – the Gravity comes highly recommended!
2. Bearaby Nappling – A Very Close Runner Up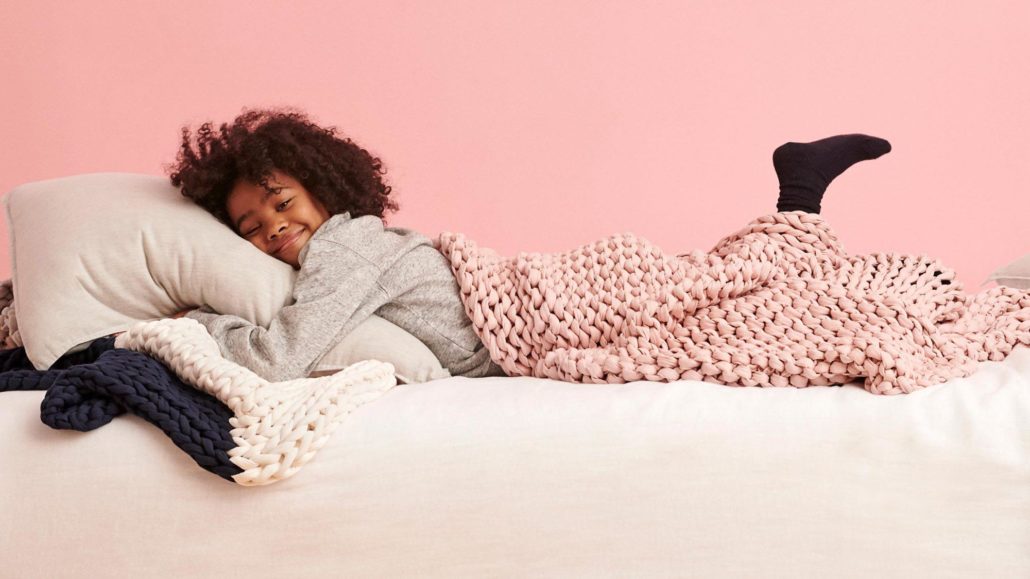 Bearaby is arguably the runner-up in this contest, but not far from Gravity at all. Some might consider it a better product and we'll show you why below!
The Bearaby Nappling is wonderfully cozy and utterly calming. Having this fascinating blanket as a sleeping companion for your children is like a magical blissful cuddle, that is highly breathable and delightfully soft. Any little one would feel wrapped in an enchanted bear hug that loops around you.
The fabric is made of 95% pure organic cotton and 5% spandex. Bearaby claims that there are no artificial fillers inside the blanket and they are right – there are no fillings at all – it's all beautifully knitted together from layer over layer of organic cotton.
The Barably Nappling comes in one weight variation – 8lbs. It is mostly suitable for children aged 4 to 14, but it might be suitable for even young adults who are smaller. The size is pretty universal – 40″x60″, and just like the Gravity above, makes it suitable for traveling.
The Bearaby doesn't have any fillers – it is naturally knitted together making it breathable and extremely silent at night. Even if your kid tosses and turns, there will be no beads to make any noises and wake him up.
The fabric is machine-washable, but only on the gentlest setting and at a temperature of no more than 30°C. You can tumble dry it on low again, but be very careful doing so – it is natural cotton that might shrink significantly if it's dried on high heat. It is not recommended to hang the  Nappling to dry as it can damage the fabrics.
Overall, the Bearaby Nappling is a very tough competition to the Gravity kids blanket and even has the edge in terms of materials used and the absolute silence it provides at night. You can't go wrong with either, but I'm sure some parents might even prefer the Bearaby Nappler over the Gravity offering.
3. Luna for Kids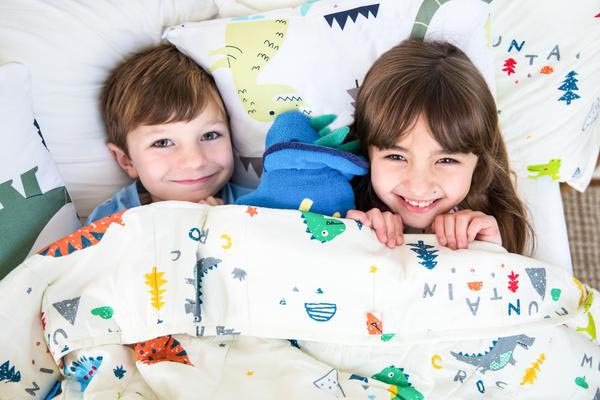 As you have most likely seen, there are dozens of options to choose from when it comes down to weighted blankets for toddlers and children. In the last couple of years, they have skyrocketed in popularity for quite a few good reasons.  When we're on the lookout for quality products, the main factors to consider are feel, craft, look, and price. Well, it's safe to say that Luna checks all these boxes!
Luna blankets have two simple goals and they are: to offer high-quality items at affordable prices. They donate 1% of their sales to Mental Health America, which makes them even more extraordinary.
Luna children's blankets are filled with glass beads surrounded by an OEKO-TEX certified organic cotton cover. Their design features seven layers of beads and cotton fabric that ensure even weight distribution throughout. To guarantee that the glass beads won't shift while sleeping the brand has created small, dense pockets.
Since the Luna is 100% cotton, you know that your child will feel like they are sleeping in the clouds. Not only that but because of the evenly distributed weight, your kid will benefit from the increase in melatonin.
Luna Wellness provides us with breathable, soft fabrics coupled with their patented airflow channels and unique glass sand so that we get a top-notch product. This is a fantastic product, which is warm without causing overheating, and the kid's version comes in three weights. They are 5Ibs, 7Ibs, and 10Ibs but that's not all because you get them in different colors, full and fun designs, such as space patterns and dinosaurs. Last but not least you can purchase these cuties for less than 50$ which is a considerable advantage in our eyes.
4. YnM Kids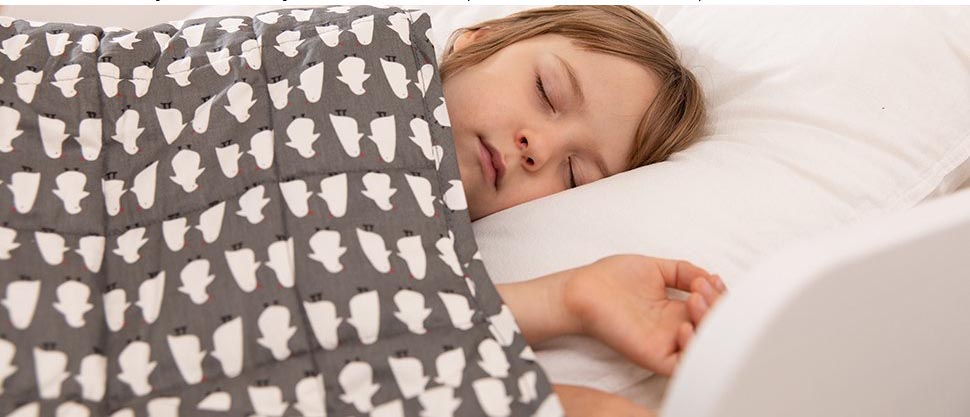 Okay, let's check out the company that has earned excellent feedback from customers and created a known name for accessible quality products. YnM's blankets are top sellers for a reason, which is why we decided to check it out and see for ourselves. After a few months of testing and research, we got to the conclusion that this manufacturer is one that needs attention.
This beautiful blanket is made with quality moisture-wicking 300-thread-count materials that won't scratch your child's skin at any point.
It's offered in bamboo viscose, a strong fabric with anti-bacterial, and anti-UV radiation properties. That's not all because the bamboo fiber absorbs and evaporates sweat and moisture so that your kid is comfortable during the night.
There are many options that the manufacturer provides when we talk about fabrics. Besides the fantastic bamboo cover, you can choose from a breathable cotton duvet cover or a cozy minky duvet cover.
Next is filling, and your best option is always glass beads. Of course, that's what you get since they provide you with nothing but the best.
To ensure the even distribution of weight YnM beads are housed in individually sewn pockets and all covers have a loop at each of their four corners and on one of the longer sides for easy attachment, which makes them machine-washable.
Last but not least, you can choose from three weight options: 5Ibs, 7Ibs, and 10Ibs and two sizes 36"x48" and 41"x60". There are three color options: grey, cream, and pink with an incredibly cute penguin design.
Their 7-layer structure provides you with a comfortable and cool surrounding, which is temperature-controlled so that your child can get a great night's rest!
5. Hush Kids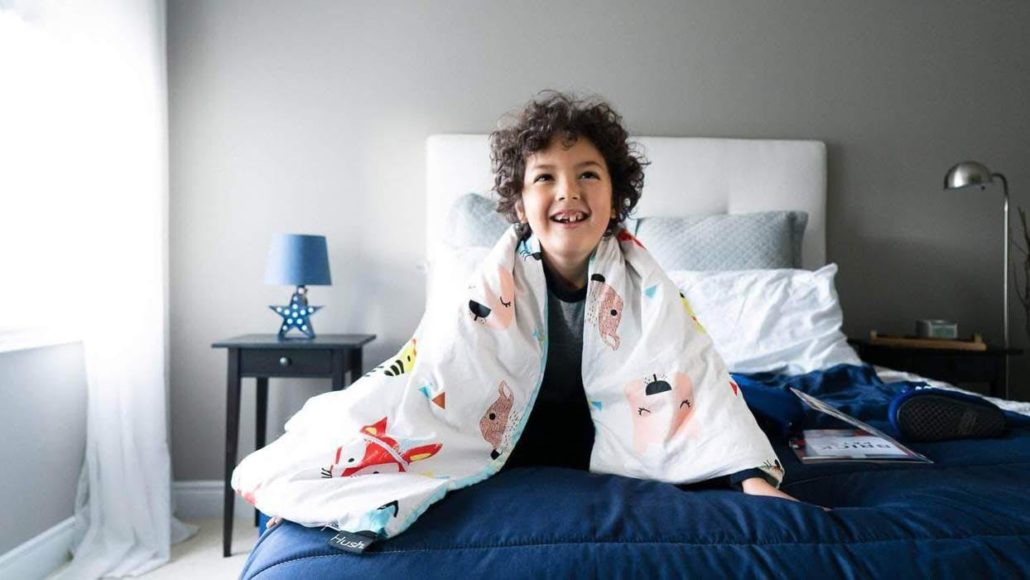 Hush is a manufacturer that offers three types of weighted blankets so that they can cater to everyone's needs and preferences: the warm and cozy, minky fabric cover, the cooling bamboo, and the cotton blend option. You get to pick what you want for your cover, and then you receive a soft inner blanket made from microfiber.
Hush Kids is available with a Classic or Iced cover. With the classic version, you get breathable cotton, whereas the Iced option is bamboo and cotton. Created with children in mind, this 5Ibs blanket is ideal for kids who weigh 40 to 70Ibs. It comes in two sizes suitable for most children, which are 38"x54" and 48"x78".
Let's talk about Hush's adorable designs. You can purchase a weighted blanket with awesome space patterns or cute unicorns. Also, you can buy the iced blanket in a lovely grey color.
The lighter weight makes it an ideal option for traveling and napping on the couch, and the child-friendly cover is easy to remove by a zipper so that it can be thrown in the wash.
If your kid is having problems with staying asleep or going to sleep at night, the Hush Kids will help them immensely by simulating the feeling of a constant hug. With that said, if your child is sleeping better, so will you, which is why you shouldn't waste any more time and get this excellent product right away!
Frequently Asked Questions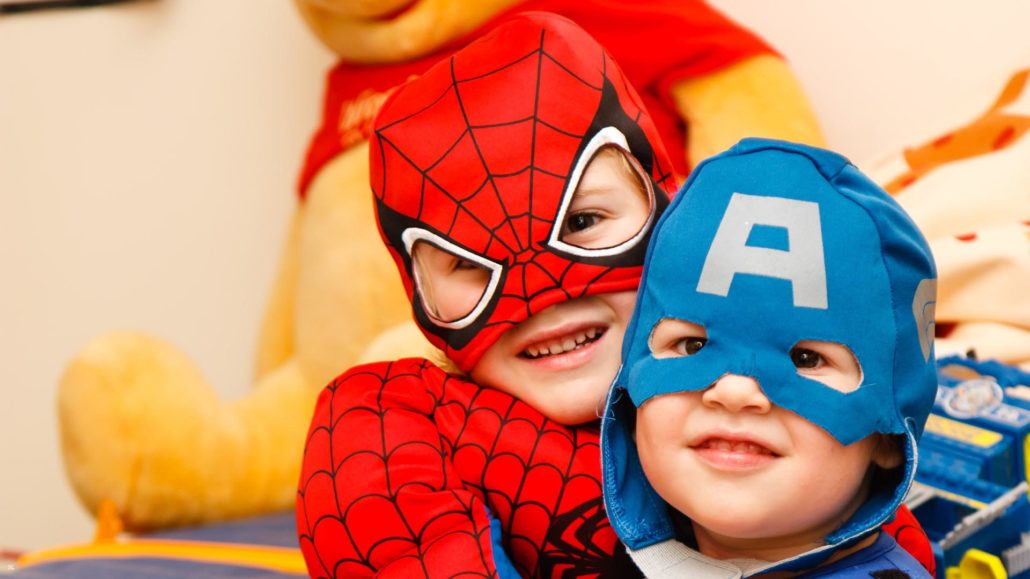 Are weighted blankets safe for kids?
We want to start by saying that before trying weighted blankets or any other sensory-based interventions on your child, make sure their pediatrician or an occupational therapist has evaluated them. Even though we've done a lot of research and talked to many professionals, we can't replace them by any means. After you have talked to your doctor and they gave you the green light you can go ahead and purchase one. However, kids under 2 years old are too small to untangle themselves from the blanket if needed, which can involuntarily put them in danger. For children under a set age, you can purchase a weighted sleep sack instead of a blanket.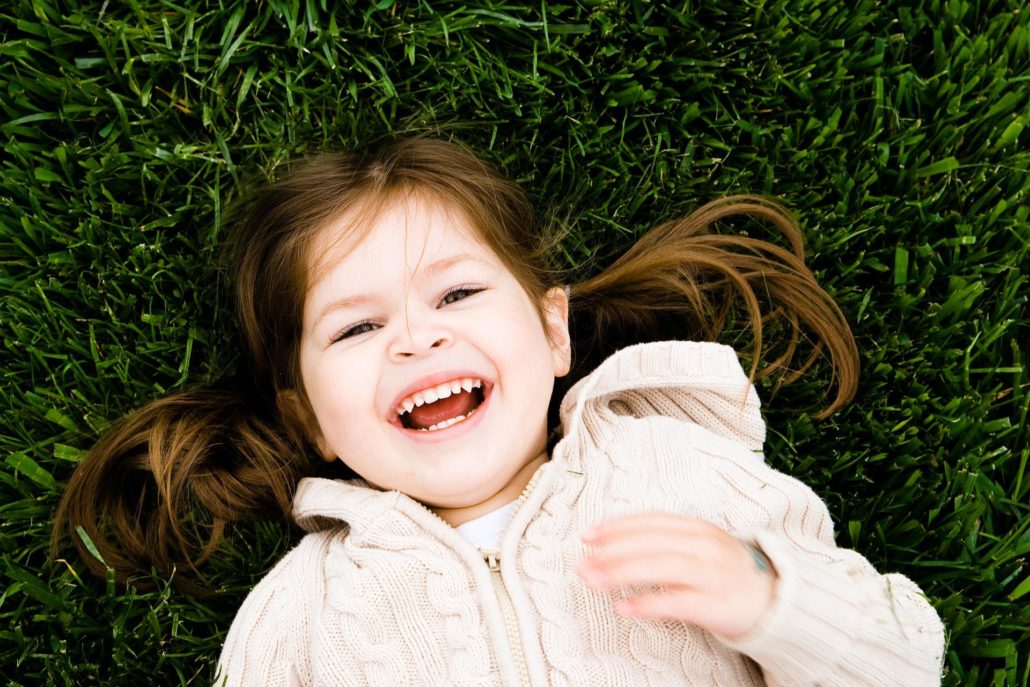 Benefits of weighted blankets for kids
We want to start by saying that there is still much research that can be done on the subject. However, there is evidence that deep pressure can help reduce insomnia, anxiety, night-waking, restlessness, night terrors, and overstimulation.
Special kids with sensory disorders have reported better sleep when they use a weighted blanket. What is important to understand is that every brain has specific sensory preferences, and some things can be too intense of a sensory experience for your child. We've already talked about recommended size and weight, but it's genuinely individual to what each kid needs.
What to consider before buying a weighted blanket?
First and foremost, you need to understand that weighted blankets can be dangerous if misused or used by someone too young. Before you purchase a set product, make sure it's suited to your child's age and size. You want your kid to feel comfortable and relaxed, which is why you'll have to explain to your little one what the blanket is for and how to use it correctly.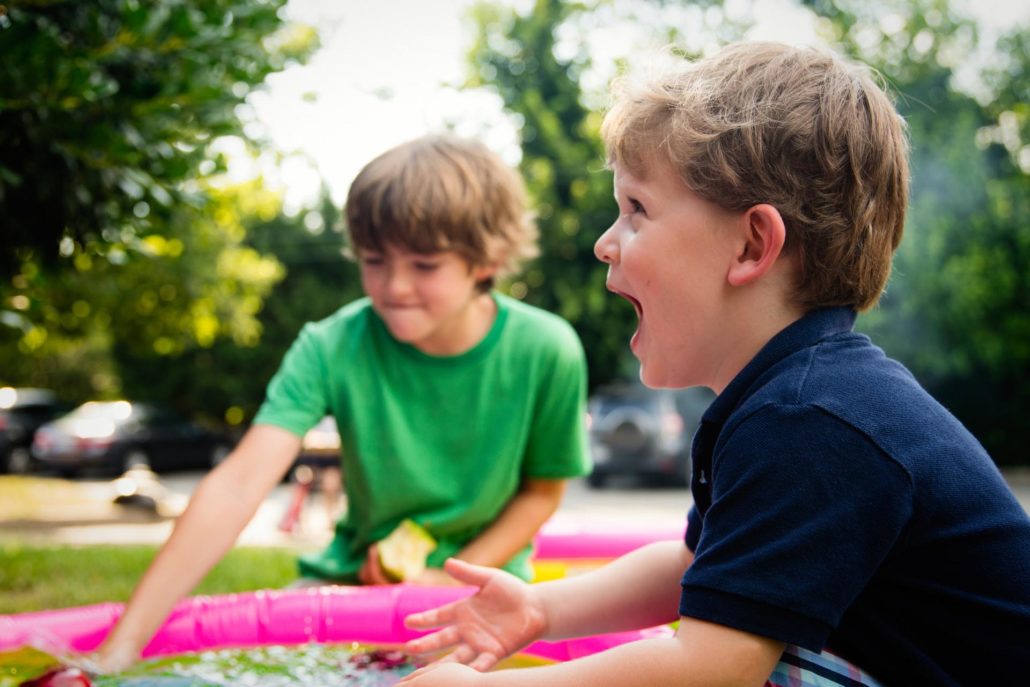 Are weighted blankets suitable for kids with special needs?
Even though there isn't any scientific proof that these blankets make sleeping better or easier, millions of people anywhere in the world use them to help calm the nervous system by applying deep pressure. With that said, these products will most likely work like magic for children who have special needs. They work well because your kid will be provided with a comforting touch without becoming overwhelmed. A lot of professionals use them to benefit children who deal with complications from Autism, anxiety, ADHD, and other sensory disorders because they lower a child's electrodermal activity. And that is connected to the sympathetic nervous system, which is an essential aspect of the sleep cycle.
Final Words
By now, you've probably seen many different types of weighted blankets for kids and teens, but the truth is that not all of them work well. And when it comes down to your child, you always want the best, which is why important to make the correct choice. Understanding the benefits and speaking to a professional is a must before introducing your children to these products. We hope that we've answered all your questions and worries, but if there is something else you want to know, you can check the rest of our helpful articles, drop us a line, or fill out the comment box below!