The Layla Weighted Blanket is a high-quality weighted blanket which brings therapeutic comfort to those who are looking for it. It is a product which is aimed at people who have anxiety and trouble sleeping and it creates enough comfort to give you a restful and peaceful sleep.
We tested the Layla blanket for a week for this review and we are going to reveal everything you need to know about it before you buy. Luckily for us and for you, the Layla company allows for 120 days sleep trial, and if you are not fully satisfied you are able to return it. How cool is that?
Layla Weighted Blanket Review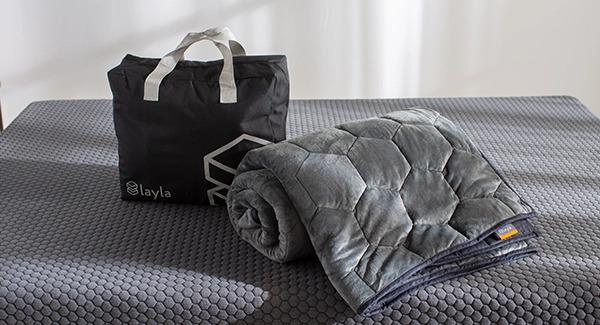 The Layla Blanket is created by the Layla Company which is a trusted American company which creates quality products such as mattresses and sleeping accessories. If you have used Layla mattresses you are aware of their fantastic flip ability and the comfort they provide during sleep.
It is made with a combination of cotton, polyester and mink, the feeling of the blanket once you touch it is soft and silky smooth. Furthermore, the blanket is created with Deep Touch Pressure in mind, which creates a hugging sensation once it touches your body. This addition is exquisite whether you are sleeping alone or not as it creates further warmth from your body.
The DTP is proven to release serotonin in your system while you're sleeping, which creates a calming effect, thus you wake up feeling refreshed and happy. Another proven point is that if you are sleeping with a weighted blanket you usually sleep deeper and longer allowing your body to rejuvenate and relax. It is extremely useful for people with ADHD and anxiety and reviews say that once they use it, they don't want to go without it.
What are the weight options? 
The weight of the blanket is carefully distributed throughout and the two-sided construction allows for a personal choice on how to use it. For example, you could use the mink side on chilly winter nights, or the 100% cotton on warmer nights, so that you're not hot.
Your blanket thinks of your comfort even when you don't. When choosing a weighted blanket bare in mind that its weight should be considered according to what your weight is. The perfect weight, according to some and highly disagreed upon by others, would be 10% of your weight, thus if you're 140lbs, 14lbs would be a good weight. With the Layla, you are lucky to have three separate options, which consider not only weight but the size of your bed as well.
What are the available sizes?
There are three standard sizes available:
Twin size – 48 x 72 inches, weighs 15lbs.
Queen size – 60 x 80 inches, weighs 20lbs.
King size – 80 x 87 inches, weighs 25lbs.
What filling is Layla blanket using? 
Another perk of the weighted blanket is the filling, it's filled with glass beads which unlike other makers are fine, smooth and extremely quiet, therefore there is no need to worry about noise if you're turning and tossing at night. 
The Layla weighted blanket is warm and cosy and it makes you feel like you have a dozen comforters on top of you, however you don't get as hot as you would think. It is created with your luxury experience in mind and the company wants to make you as comfortable as possible, which is why the Layla product is machine washable! You have to be careful washing it though, and always follow the instruction for washing and drying. 
So if you have children who are always running around and there is a possibility of spillage, you don't have to worry as you can always throw it in the washing machine and wait for it to get clean and ready to use once again!
All Specs
Two-sided – one side is 100% breathable cotton for warmer nights, and the other is mink and polyester to keep you warm.
One side is plush and soft, whilst the other is side is 300 thread-count soft cotton.
Filling – Filled with high-density glass beads limiting noise and heat issues
Deep Touch Pressure – to hug around your body and limit unnecessary movements.
120-days sleep trial – if you don't like it, don't keep it.
Three separate sizes – Twin, Queen, King.
Machine washable.
5-year-warranty.
Is it worth it?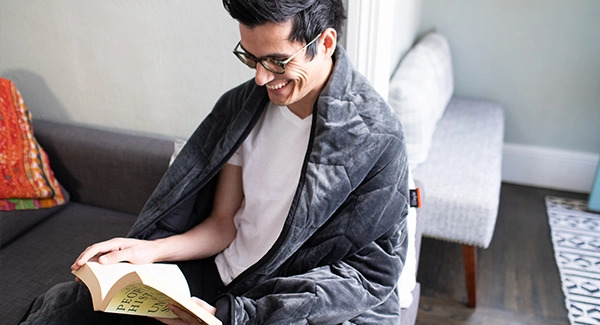 We personally enjoyed the Layla blanket a lot! It gave us the freedom to choose which side to put on the bottom and which on top. Unlike other weighted blankets which may not allow for such comfort. Furthermore, we like the fact that it doesn't create noise, as we have had experience with blankets which have been so noisy they have woken us up in the midst of sleep. The worse are the ones who use plastic beads that are hollow inside as a filling – such a nightmare! 
The delivery was extremely quick and hassle-free. The company has great customer service, is based in the USA and are super helpful at any time you mind need them. They deliver all over the Unites States, as well as Canada, Hawaii and Alaska, however, the shipping fees may vary depending on your location. It's best to check your ZIP code before ordering to avoid any unpleasant surprises and delays in shipping. 
Another awesome thing about this amazing weighted product is that is has a full 5-year-warranty. Therefore if you ever have an issue with it that is due to a manufacturing defect you can request a new one from the company and simply cover the delivery cost.
So if you ever have any further questions about the Layla blanket do not hesitate to contact us, or even better you can contact the Layla company and ask them any queries you might have. We cannot suggest the Layla blanket enough, that's how happy we are with it. Don't hesitate, give it a try.