How to choose a weighted blanket?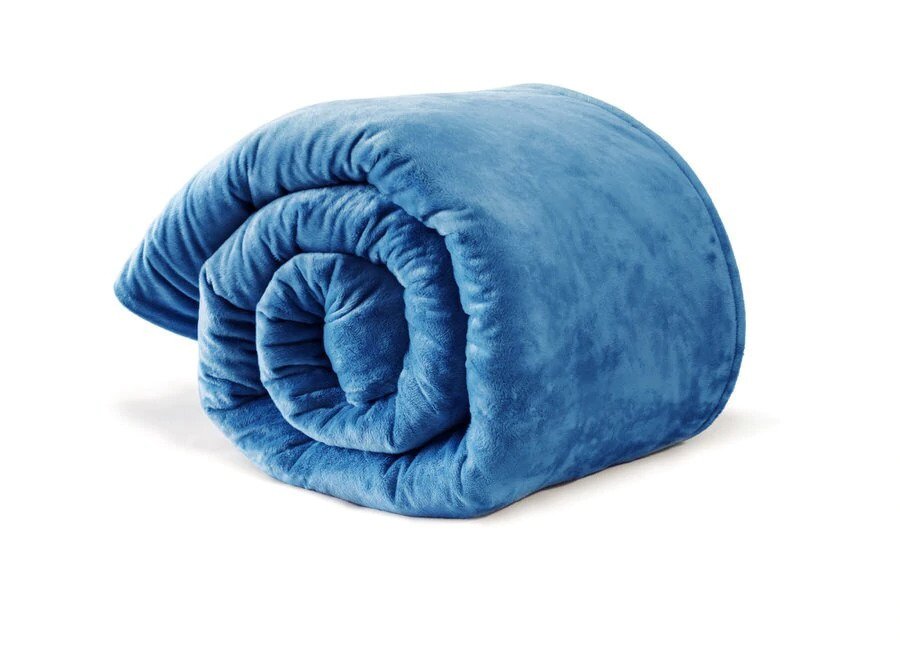 Okay, there are a few things you should consider when choosing a weighted blanket.
The size of the blanket
the perk with weighted blankets is that they have different weights, depending on the size of the bed, but also depending on the weight of the person sleeping with it. So, there is this little rule that most people apply when buying their blankets – the weight of the blanket should be 10% of the person's weight. For example, if you weigh 150lbs, your blanket should be 15lbs. That's a great way to get the best fit for you and have a lot of comfort during sleep.
The filling of the blanket
Okay, weighted blankets most commonly come filled with glass beads, which are very tiny (the size of grains of sand), therefore the blanket is thinner and not as bulky. That doesn't mean the blanket isn't warm, it simply makes it more compact. The other type of filling would be plastic pellets – they are larger, however, they weigh less, therefore there is a lot more which makes the blanket full and bulky. It depends on your personal taste and what you're searching for.
Okay, so now that we have gone through the most important things to consider when choosing a weighted blanket, we can move on to the Moonbow Weighted Blanket. We personally, really liked the Moonbow Weighted Blanket, as it is an all-season blanket, thus it's usable for any environments – hot and cold.
Moonbow Weighted Blanket Review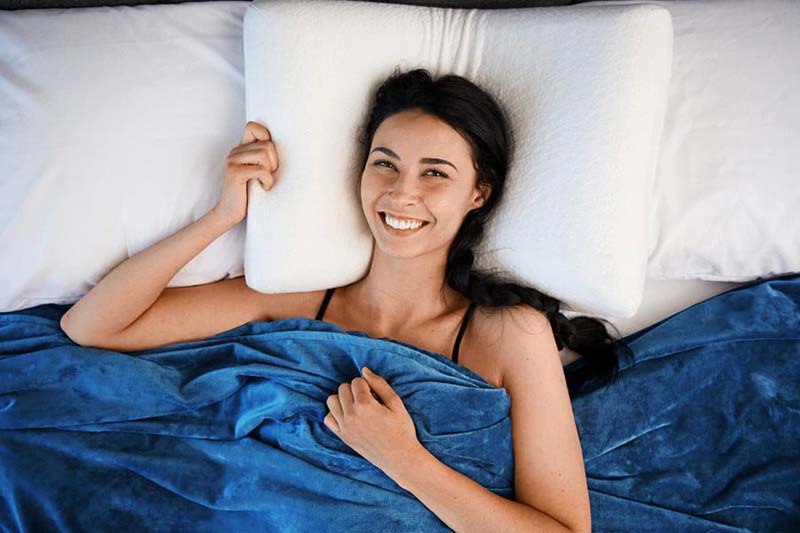 The Moonbow blanket is a fantastic weighted blanket, which is filled with glass micro-beads spread evenly across the blanket. The glass beads are protected through gridded double-stitching, in order for them to not pile up in one spot and keep the whole body warm at night. Furthermore, the glass micro-beads create Deep Touch Stimulation, which helps your body stay still and move only when necessary.
The Moonbow Weighted Blanket has two sides – one is 100% polyester, whilst the other is made of 100% bamboo fabric. Therefore, one side keeps you warm on colder nights, whilst the bamboo fabric is an eco-friendly product that is proven to have a thermo-regulating ability. This ability will help keep you cool on hotter, summer days, which is a fantastic addition to the Moonbow blanket.
Also, the Moonbow blanket comes with a removable micro-plush duvet cover, which has a great, luxury feel to it. Not only does it make you feel like your sleeping in clouds, it helps you keep the weighted blanket clean and stain-free. Don't worry if you get a stain on the cover, however, because due to its removable ability you can pop it into the washing machine and clean it in no time!
The size of the blanket is 72x48in, and it comes in two weights – 15lbs and 20lbs. The Moonbow weighted blanket is made to fit a single person as it's great for queen size beds, however, it may not be big enough for a king-size bed. Therefore, if you are looking for a weighted blanket for two people, the Moonbow blanket could work, depending on the size of the bed.
The Benefits of Moonbow Weighted Blanket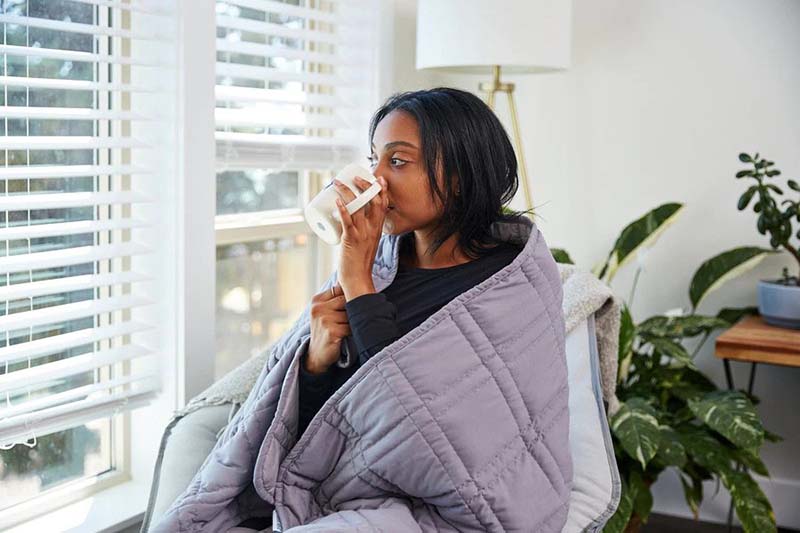 Every product has something that makes is spectacular and worthy of buying. This includes the Moonbow weighted blanket and we are going to tell you what was really great about the product. In case you worry, that even though we liked it, you might not, the company offers 30-day free return if you aren't satisfied.
Perfect Temperature Distribution
There has always been an issue with couples that one might like it warmer and the other one colder. However, if you don't have such an issue because you're single like me, you will definitely like this blanket. It is double-sided, and I loved the fact that I can depend on something to cool me down when it gets too warm. This is because of the bamboo eco-friendly material that makes one side of the blanket. The other 100% polyester side is soft and makes you super cozy on chilly days. What we're saying is that you have choices.
Deep Touch Stimulation
I cannot praise the Deep Touch Stimulation enough. If you've had problems with anxiety or insomnia, or even stress, in general, you will be extremely pleased with the DTS. What it does is that it simulates a hug, which creates consistent and constant pressure on the body, which helps limit the bodies movements and wakes you up feeling refreshed. It's not advisable for children, as it might cause issues. The simulated hug helps the body release serotonin, which is the happiness hormone, so you can see how it assists people with anxiety.
Plenty Of Weight Option
The weight of the blanket that is caused by glass microbeads also helps the body release melatonin, which is a hormone that aids your brain and body to fall asleep faster. I have always had issues with falling asleep and the Moonbow blanket definitely helps me fall asleep.
Micro-Plush Duvet Cover
The Moonbow Weighted Blanket comes with a micro-plush duvet cover which is fantastically soft, and I love it! It's easy to take it off and wash, and it makes me feel like I'm flying in the clouds.
Final Words
Well, we have given you some amount of information for you to chew on, but we don't think that you have to hesitate for long. Give Moonbow weighted blanket a try – it's affordable and if you're not happy you can return it by the end of the month (30-days-return) and find something which satisfies your needs.
If you have any questions or concerns, please drop us a line in the comments below and we'll get back to you as soon as we can. Alternatively, check out the rest of our weighted blanket reviews, comparison, and advice here. Looking forward to hearing from you!