Do you have trouble sleeping well at night?
Do you want to feel refreshed and eager to start the day when you wake up in the morning? Instead, you wake up groggy and feel even more tired than the night before?
Sleep is a vital part of life because it is the time when the body rests and the brain processes all information gathered that day. But some people do not experience quality sleep every night if ever. Can you imagine the burden they're experiencing?
That's why weighted blankets are becoming as popular as ever. There are many products on the market, and one of the best ones is the YnM.
I suffer from panic attacks at night, leading to disrupted sleep. I had the chance to try it for a couple of weeks and overall I'm
very pleased with my findings. Aside from the affordable price, it's a very well-made product.
Although there are a few small issues that I'll discuss below, please read on to find out what's my opinion of the YNM blanket, did it help me sleep better, and should you get one too!
The YNM Weighted Blanket – How Does It Work?
The brain works by controlling everything in the body – from the cells to the vital organs. However, there are other things that it controls, such as the chemical messengers in the brain. Dubbed as neurotransmitters, these control many bodily processes and if there is an imbalance in their levels, the person can suffer from a variety of conditions.
Some of these conditions include anxiety, depression, obsessive-compulsive disorder, attention deficit hyperactivity disorder (ADHD), autism spectrum disorder, panic attacks, and stress disorders, among others. Most of these conditions have been linked to an imbalance in certain neurotransmitters. For one, these conditions are associated with low serotonin levels, a vital neurotransmitter in the brain that helps the body relax and stay calm.
People with low serotonin levels may experience a broad range of symptoms, and one of the most disturbing is the inability to sleep well, leading to sleep problems and lack of sleep. People who lack adequate sleep can suffer from daytime sleepiness, disturbed focus, and the inability to perform well in school and at work.
So how do weighted blankets help with these conditions? The weighted blanket has gained immense popularity over the past years because it helps people sleep faster and better at night. Plus, it offers relaxation, all thanks to deep touch pressure (DTP). Deep touch pressure is the even distribution of pressure throughout the body, which increases the production and release of serotonin in the brain. As a result, weighted blankets not only help you sleep better, it also aids in the reduction of many symptoms associated with the disorders.
Aside from that, weighted blankets improve the levels of melatonin in the body. It's an important hormone that promotes sleep and relaxation because it controls the body's internal clock. It tells the body that it's time to sleep or it's time to wake up.
Variations of the YNM Weighted Blanket
Unlike other weighted products on the market, the YnM Blanket comes in many sizes and weights. It has several variations that can cater to the individual needs of the customers. I like that the increments are not in fives, it comes in varied weights so anyone can use the blankets without worrying about them being too heavy or light.
The range of weight options includes 5 pounds, 7 pounds, 10 pounds, 12 pounds, 15 pounds, 17 pounds, 20 pounds, 22 pounds, 25 pounds, and 30 pounds.  Also, you can choose from twin-sized, full bed-sized, queen-sized, king-sized, and sofa-sized weighted blankets. So far, this brand has the most options when it comes to sizes and weights, which is better for a wide range of potential customers from children to adults.
Just remember to order the right weight for you. It should be 10 percent of your body weight to achieve the optimal effect of the weighted blanket.
Aside from that, there are four options you can choose from – cotton weighted insert, bamboo weighted insert, Minky weighted insert, and easy-carry Minky weighted insert. Also, you can order a duvet cover for your weighted blanket that comes in twin, queen, and king sizes.
If you're not into bold and boring colors, the good thing is, that the YnM Weighted Blanket comes in many types of fabrics and a wide array of patterns or colors to choose from.
Build Quality And Materials
When it comes to the YnM Blanket build quality, it's the only product with the ability to produce a 7-layer weighted blanket. It's designed to surround the body mimicking a hug to help you sleep better. Additionally, it's made with more glass beads and less fiberfill for better temperature control. You won't feel too constricted or warm while using the blanket.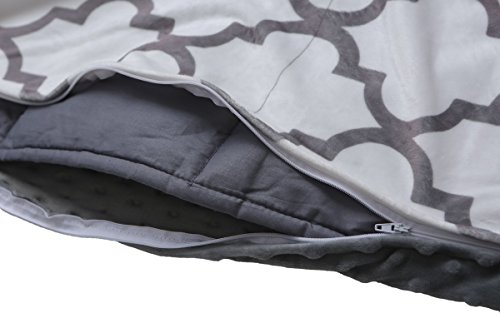 One of the best things I love about the blanket is its breathability. Unlike other weighted blankets that I felt too grounded and constricted, the feel of the soft cotton fabric makes it easier for me to sleep. It expels the moisture in the body to make you sleep better, providing better temperature control.
Also, the glass bead technology makes it a well-made product because these conform to body size and shape, providing a better way to provide deep touch pressure. Plus, the inside pockets make sure that the glass beads are distributed evenly. I haven't tried the product long enough to check its durability since I used for just two weeks now, but I will update you if the product is long-lasting and strong enough to withstand wear and tear.
How Effective Is the YNM Weighted Blanket?
When we talk about effectiveness, with the YnM Blanket, I slept better than before. I had the best sleep of my life since I started experiencing insomnia due to panic attacks at night.
One the first night, I was surprised that the YNM Comforter helped me sleep faster. In the past, I twist and turn on my bed for about an hour before I can sleep. Throughout the night, I will wake up every hour because of my heart racing, which is a sign of a panic attack. But with the YnM, I had a 7-hour straight sleep, which is the first since I was diagnosed with panic attack disorder in 2016.
YnM is a premium-grade and therapeutic weighted product. All I can say is, that it is effective for my severe panic attack, and studies have shown it can also help people with other conditions such as anxiety, AHDH, insomnia, and autism, to name a few.
Final Words
Since I used the product, I can say that with its moderate and quite affordable price tag, it is well worth the price.
Other weighted covers are sold for way more without many options to choose from.
The YnM Weighted Blanket comes in almost all sorts of different variations, making it much easier for you to choose the one that best suits your weight and needs.
My verdict is it's totally worth the price as it's a premium-grade quality product. Even though I just used it for two weeks, I felt comfortable and slept better at night. However, it's important to make sure you compute your weight to order the right size. You don't want to be too constricted at night.
Overall, I highly recommend this product to those who want to try weighted blankets. If you feel like you need to try something first, this is the perfect product. Some people might find it effective and others don't, so it's impractical to order the expensive ones first.
For its price, it's a very good buy!
Alternatively, you can head out to our weighted blanket comparison page and see if any of the products that we reviewed will better suit your needs!!!