Have you ever woken up in the morning and just didn't feel like getting out and starting the day? Your sleep was rested and fantastic, and you simply felt so cozy and snuggled up that you can't imagine leaving your bed? Well, I have been there too! For years, I would wake up and feel dissatisfied with everything around me. I'd look in the mirror with bags under my eyes, which were more prominent than the day before. I didn't know how to deal with life in the day, considering I wasn't getting enough sleep at night. Until one day, a friend advised me on buying a weighted blanket, and not just any – the Beautyrest one.
At first, I was skeptical – "What difference does a blanket make?" However, I gave in and thought I should give it a try, so I bought the Beautyrest blanket. And let me tell you, life hasn't been the same since. To begin with, I don't have bags under my eyes anymore, and I wake up every morning with a joyful attitude, simply because I got to sleep the night before. And since Beautyrest helped me improve my life, I decided to write a little article and allow more people to learn about this fantastic weighted blanket.


Beautyrest Weighted Blanket Specs
In a few words, a weighted blanket than usual, due to the materials it's filled with. Usually, these materials are either plastic pellets or glass beads – plastic is lighter; therefore, the blanket is bulky and oversized, unlike glass, which is heavy, and the product is usually thinner. Weighted blankets come in a variety of sizes and weights, which allows options when it comes down to choosing the best version for your needs.
Fabric
As I said, I have the 15lbs Beautyrest blanket, which I bought in a grey color and its size is 48x72in, which is perfect for individual use. It came boxed up, and once I opened the box, I was met by a luxury feel, soft blanket, so as you can imagine, it was love at first sight. What I loved about it was the opportunity to remove the cover and pop it in the washing machine and then the dryer, before using the blanket. I have this thing, where I wash everything before use, and it was a happy surprise which I didn't expect.  
The Beautyrest blanket is made out of 100% breathable polyester, which I thought was fantastic as you're warm in the colder nights, and cool in the heat. It's an all-season weighted blanket, which is a definite perk.
Filling
The filling of the blanket is glass beads, that are held evenly in place by ten inner ties that help the filling from shifting around and bulking up in the corners. What I like about the glass beads is that they don't create any noise at night, which is an excellent benefit for my rest. When I thought about a heavy blanket, I was thinking of noise, and I was happy to find out that I was wrong.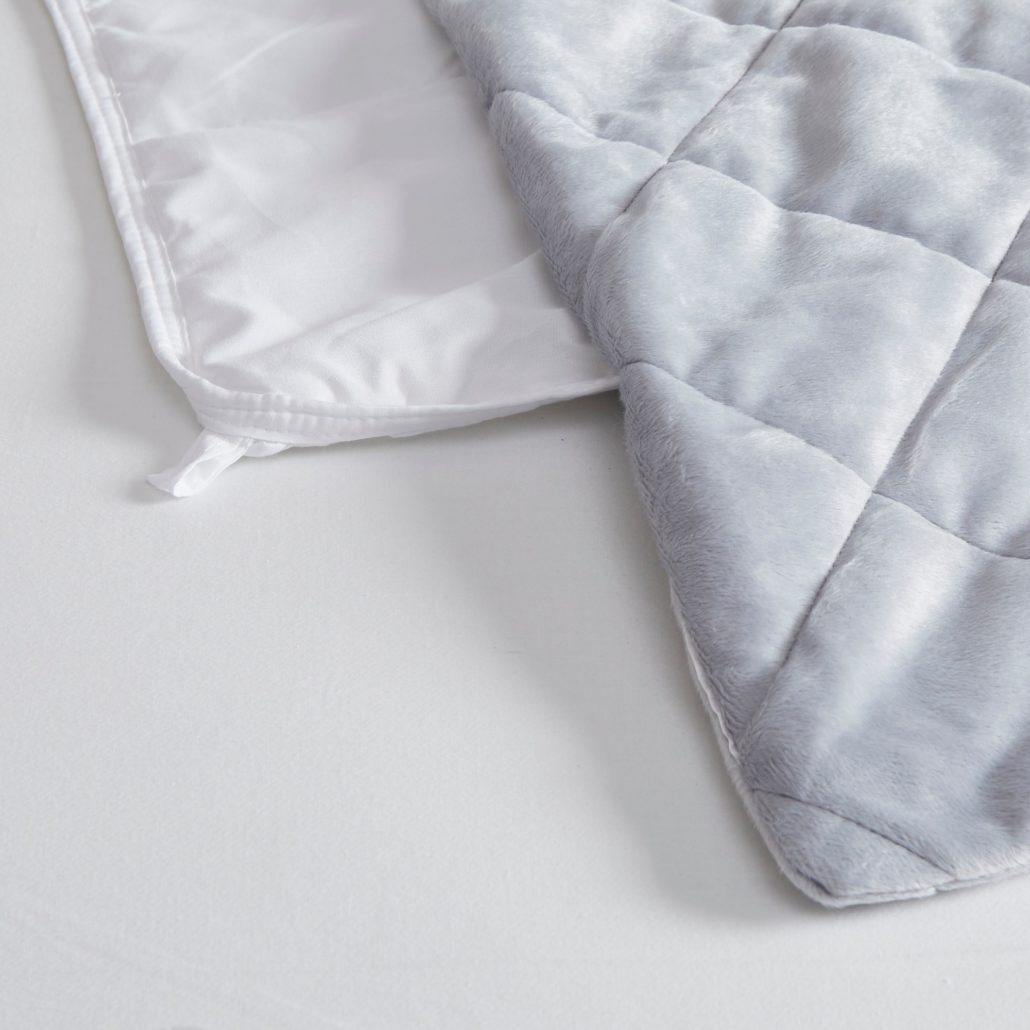 Size & Weight
You are probably wondering how to select the appropriate one for you. This was one of my issues prior to buying the Beautyrest blanket, and I'm glad I had a helpful friend to share his experience with me. Weighted blankets can come in sizes for a single use for a twin bed, a queen bed, or a king-size bed. Bear in mind, that king-size bed blankets, tend to be heavy and if you are a tiny person, your best bet might be to buy two separate blankets. When it comes to weights, there is a range between 5 to 25, even 30 pounds. After personal experience and a lot of research, a weighted blanket should come to the following: "The weight of your blanket should be 10% of your weight or the closest one to 10%."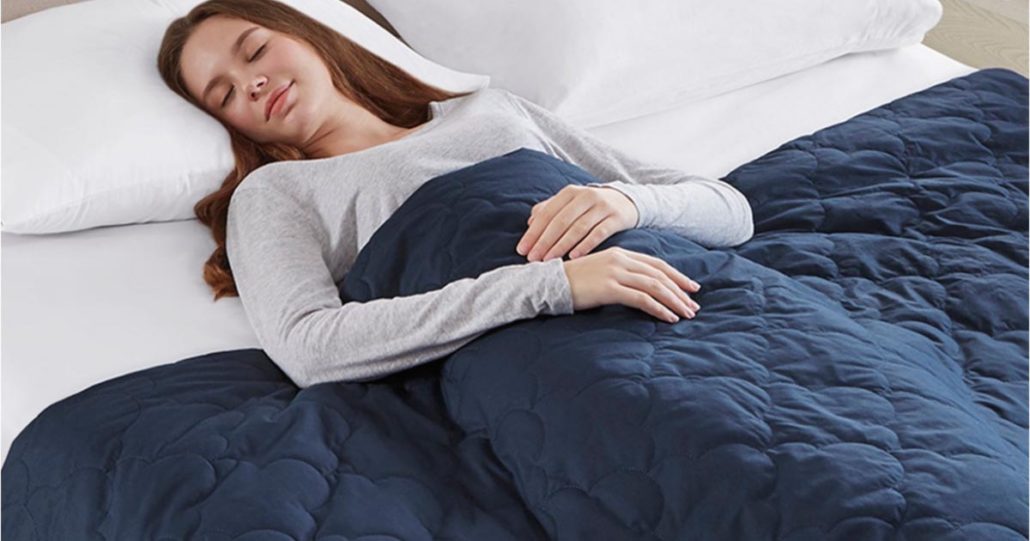 Health Benefits
For years I have had trouble sleeping because I can't fall asleep, at times it can take hours for my brain to shut down so I'd fall asleep right before I have to wake up. It was restless and exhausting! Beautyrest's coolest feature is perhaps the Deep Touch Simulation, which makes you feel like a big, warm bear is hugging you, and before you know, you're asleep. After all, this is the work of people from Harvard and an overall incredible creation. Designed with the idea of helping people with anxiety, insomnia, and autism, it pushes the body down in a way that helps the brain release cortisol. Cortisol is the stress hormone, so when the brain releases it, you fall asleep faster! Not only, did the blanket made me fall asleep faster, it also limited my movements, which I realized after I creepily filmed myself sleeping, after a couple of weeks without body pains. I wasn't still, but I wasn't jumping around the bed as usual.
Final words
Okay let me sum it up, I fall asleep quicker, I sleep deeper, I move less, which leads to fewer body pains and I wake up feeling refreshed and as if I am on top of the world. I can't praise Beautyrest Weighted Blanket enough. I advise you on buying one and testing it yourself, as it is very affordable. I hope you love it as much as I do.