BlanQuil Weighted Blanket Review:
Perfect Fit For Most People
My experience of buying weighted comforters had been a huge hit and miss until I came across the BlanQuil weighted blanket. This, in my opinion, is one of the best products to buy out there, and if you want a peaceful sleep under a comfortable weighted blanket, then the BlaQuil should definitely be on top of your list.
BlanQuil Weighted Blanket – How Does It Work?
It is engineered to be approximately 10 to 15% of your total body weight. So, when you put it on, it offers a gentle pressure that spreads evenly on your body. This helps you to relax and get better sleep naturally. When I was searching for a comfortable blanket a few months ago, my priority was that it should offer that body-hugging feel when I use it. I probably went through hundreds of options before I stumbled upon the BlanQuil model. There is a good reason why it is called a "weighted" blanket. Let me explain how it works so that you'll get a better picture of what this fantastic product brings to the table.
The feeling you will experience will be just as if someone is hugging you even when you'll be sleeping alone. This quilt is so good that it is now keeping me in bed for a long time because it promotes relaxation and improves my sleep quality.
Another reason why I feel this is the most superior quilt on the market is its perfect balance between its weight and ultra-soft microfiber. It sort of invites me to bed whenever I'm around. Moreover, it works like DPTS, which stands for deep pressure touch stimulation. DPTS is very similar to how you feel when you get a message. The light pressure exerted on your body by the weighted beads wakes your nervous system. This light but deep pressure has a calming and relaxing effect on your body, and to be honest, I feel wonderful under it.
Build Quality And Materials Used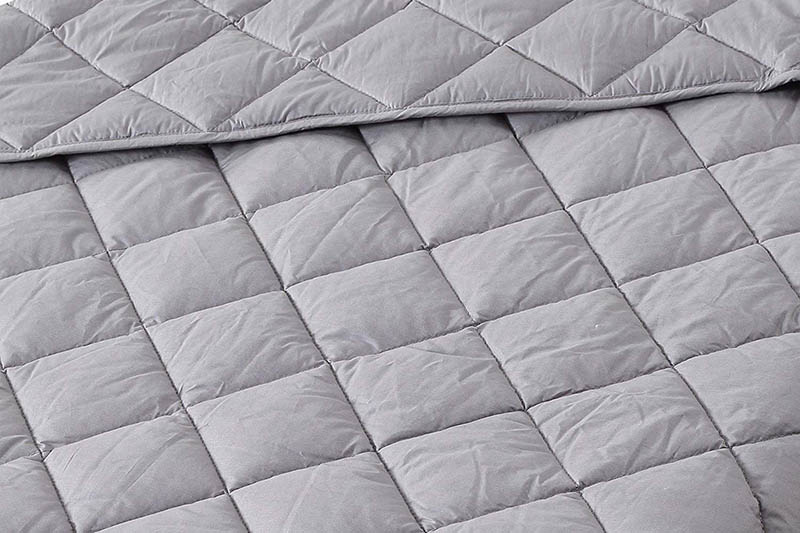 I wasn't quite sure about how this blanket offered such high levels of comfort, and yet priced so reasonably. Later, I checked the materials they used to make it, and I must say, they have done a fantastic job in balancing out all the qualities efficiently. The top layer is made of a high-quality washable polyester. At first, I thought it was a trick to save money, but later I realized it increases durability and provides more comfort. Previously, I have used blankets whose top layer was made of cotton. These never lasted more than a few winters. Most importantly, BlanQuil keeps you warm. Sometimes, especially on sunny days, you may feel too warm, but that's just this quilt doing its job.
The weight of this comforter comes from the poly pellets which are sewed within dozens of rectangular compartments. The weighted pellets or the beads are the most significant component of any weighted blanket, and BlanQuil has not compromised on the quality of this part at all. What makes the BlanQuil weighted comforter different from the others is that the pellets have ultra-high density. This makes them heavier than other similar counterparts available in the market. I have had the experience of sleeping under other weighted quilts, but their weight distribution was not adequately managed.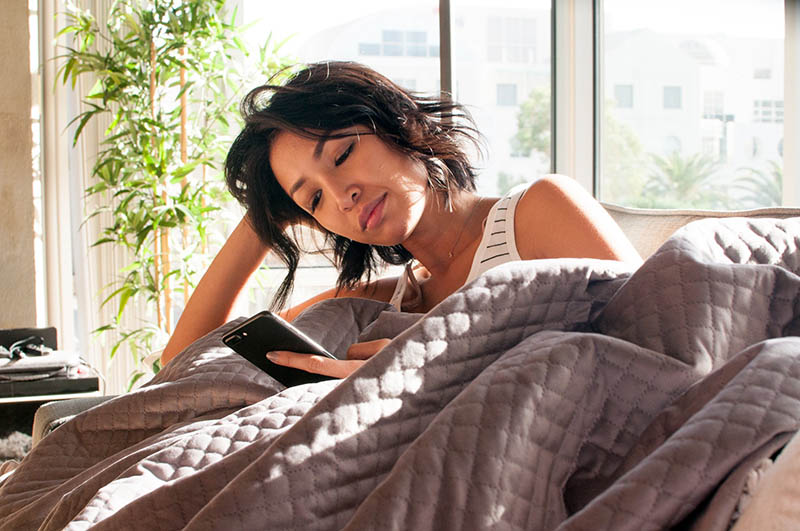 The one from BlanQuil is my favorite now. Its weight distribution is to the point, and it gives you such a soothing experience. Plus, its body-hugging ability is out of this world. The poly-pellets used are so dense that they feel like small glass beads but without any sharp edges. I wish I could cut a small part from one end and take out a few beads to see them.
Another feature I really like about this blanket is that it is machine washable and dryable. However, I would recommend you to keep it on low heat to avoid any damage to the fabric. I only tried it once and kept the temperature only moderately high – it didn't shrink or anything, but anyway I wouldn't risk it for such an expensive comforter.
BlanQuil Blanket Available Sizes And Weight Options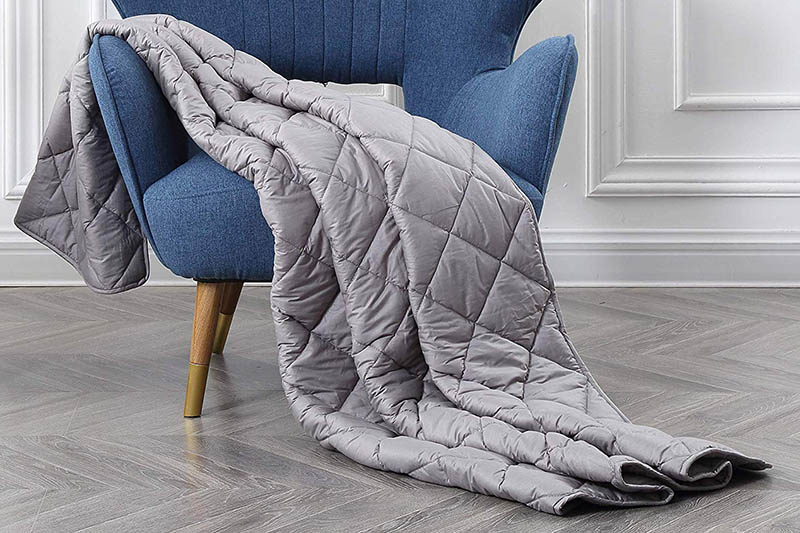 Here is one of the best things about the Blanquil weighted blanket I should share with you. They are available in two different weights: one, the 15 lbs variant, and second, the 20 lbs. It is a very tactical approach by BlanQuil because if the winter is too chilly at your location, you can use the 20 lbs variant. I currently use the 15 lbs variant, and it is super comfortable for me.
While researching weighted blankets, I came across a thumb rule that the quilt should be approximately 10% of your body weight. This one actually is around 10% of my body weight, and that's why I feel so comfortable under it.
However, there is only one standard size that BlanQuil blanket is now offering to its customers. Both the 15 lbs and 20 lbs measure 48″ x 74″. For me, it is a pretty good size since I use it alone. But for those who sleep with someone else in one bed, you might need two of these quilts.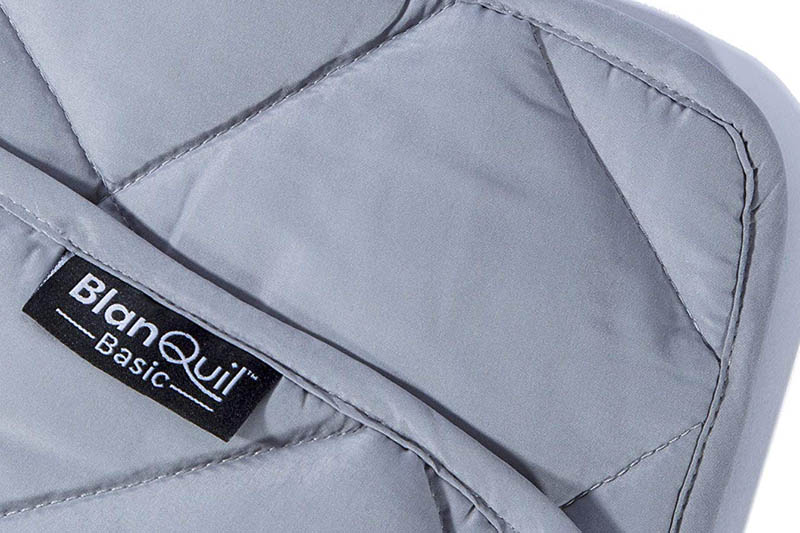 One thing that this quilt offers apart from comfort is the weight range. Apart from balanced mass distribution, this is another feature you should keep in mind while buying any weighted blanket. With the right weight range, the quilt will not hang off your bed. Because BlanQuil fits the size of the average mattress, you won't have to deal with any sort of mess in the morning after waking up.
As far as I can remember, none of my previous quilts had any good weight distribution. Every time, I tried to use them, their fillings used to collect on one side, and then it used to become impossible to roll them over my shoulders.
The size options available are perfect for an adult. Your kids can also enjoy the comfortability of this blanket provided that you purchase the 15 lbs variant for them. The 20 lbs variant may be too heavy for them, but it completely depends on their weight. Also, you can choose from five different colors: grey, taupe, chill cooling BlanQuil, navy, and charcoal.
 Final Words
I will definitely recommend this blanket to everyone because of the comfort level that it offers. Never have I come across a blanket that can put me to sleep as if I'm under anesthesia. So, don't hesitate to get one for you and your family.