CoolMax Weighted Blanket – A Great Alternative To Gravity
Do you or someone you love struggle with falling asleep and staying asleep? Many therapists believe that sleeping disorders and anxiety-related issues often go hand in hand. A bad night's sleep certainly doesn't help your anxiety and anxiety usually doesn't allow you a good night's sleep. It is a bit of a Catch 22 situation, isn't it?
Worry no more. Today I am going to review a weighted blanket which according to various reports can help you get better sleep and can soothe your anxiety without any pills – the Coolmax Weighted Blanket by Weighting Comforts.
CoolMax Weighted Blanket – Weighting Comforts' Top Dog
The Weighting Comforts "Stay Cool" 15-pound blanket is built to offer you a more relaxing and restful sleep. The fabric used in this quilt gives you a sense of deep massage which helps your body to release a neurotransmitter called serotonin naturally. Serotonin is a chemical that provides you with a sense of happiness and relaxation.
Most of the weighted blankets available in the market, due to their weight, tend to be hot and confining. The "Stay Cool" blanket, on the other hand, is made of 35 percent Coolmax and 65 percent cotton. The Coolmax poly-cotton fabric technology helps to keep the moisture away from the body. This helps in maintaining your natural body temperature while giving you a sense of freshness.
Cotton which is a soft and naturally stable fiber, found on the cotton plant has hypoallergenic properties. Not only does it keep one cool during the warm months by absorbing the moisture, but it also works as insulation during the cold months.
Weighting Comforts quilt has square packets throughout its length which holds FDA grade beads inside it. These filling beads are approved to be non-allergenic and non-reactive.
The use of quality fabrics ensures durability and overall comfortability. In addition, the quilts are not mass-produced by machines. Each of them is hand-sewn by verified refugee women in Nashville, Tennessee, which doesn't only ensure the high-standard stitching quality but also helps these refugees to support their family as well.
Coolmax Weighted Blanket – Size And Weight Options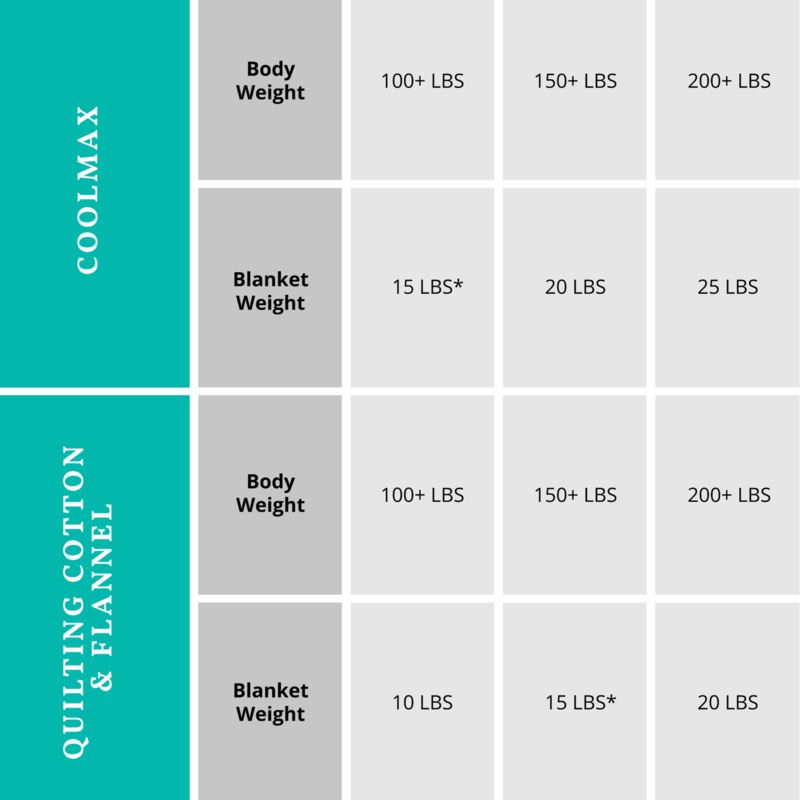 The Weighting Comforts "Stay Cool" blanket comes in a wide variety of sizes, and two colors.
Kids:
The kid's size quilt weighs seven pounds and is available in only 58″ by 40″ inch size.
It is available in two colors light-grey and white. The availability of either color depends on what's in stock. The weight of the kid's comforter is designed to feel like a hug and is not intended to feel uncomfortable at all. However, it must be noted that the weighted blankets of this kind are not designed and built for babies or toddlers. Be VERY CAREFUL using weighted blankets or any heavy tops on babies and toddlers – it can be VERY DANGEROUS and it might induce a bi tragedy so please avoid at all cost – for more info click here.
Adults:
Weighting Comforts provide three additional weight options and sizes of their "Stay Cool" duvet for adults. The first one is the 15 pounds quilt which is available in 55″ by 74″ inch size.
The second one is a 20 pounds quilt which is available in 55″ x 74″ inch size and the last one of 25 pounds and is available in 55″ x 74″ inch size.
As for the colors, every Coolmax adult weighted blanket is available in two colors, light-grey and white but again the color availability solely depends on the stock. Each blanket comes in an increasing weight depending on how heavy you want it to be. It is usually suggested to purchase a blanket that is 10% to 12% of your total weight but that's not really strict for adults – you can go for heavier or lighter weight depending on personal preferences.
In addition to Coolmax blankets, Weighting Comforts also produce a quilted cotton version for adults and for kids, a weighted version made of flannel, and a lap pad and travel version that is lightly weighted.
The Weighting Comforts blankets were founded by a therapist who found that the natural approach of sleeping with a heavy cover helped a wide-range of her clients(adults to kids). They are of exceptional quality in part because they are handsewn by refugees in Nashville, Tennessee. The company says every purchase helps to create income for the refugee families. Price-wise, they are on the higher side as each of them is hand-made which also ensures their quality.
CoolMax Blanket Comfort And Feel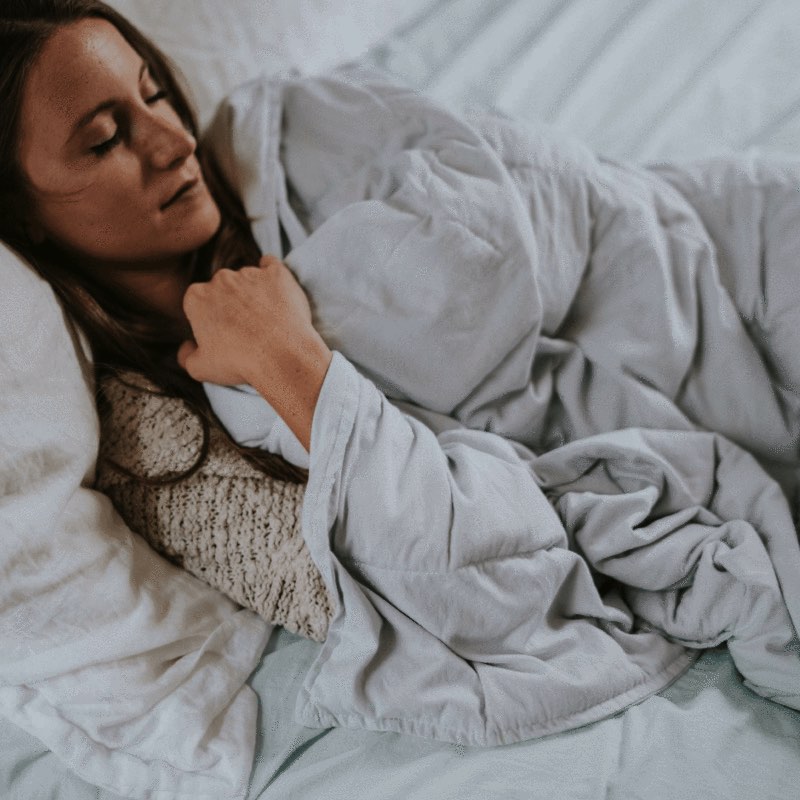 A weighted blanket loses its comfort level if it is too heavy and confining – you might feel overwhelmed by the weight and not enjoy the experience as you're supposed to. In addition, if it is too heavy, it will be hard to transport around the house, to hotels, for camping, etc. In addition, a quilt that is too heavy could make it difficult for a cat or a small dog to escape if it crawls underneath it.
A weighted blanket should be sized to your body and not for the bed. Weighted Comforts products are not designed to fit an entire bed. They are designed to fit your body and is intended for individual use so that none of their benefits are wasted. A blanket of this kind should only be as heavy as you need it, and that will depend on your size and if you have received any recommendations from a medical professional, for example. The Weighted Comforts Coolmax Stay Cool Weighted Blankets are heavy enough to produce therapeutic benefits but are comfortable enough not to be confining. They are considered extremely comfortable overall.
Is the CoolMax Weighted Blanket Effective?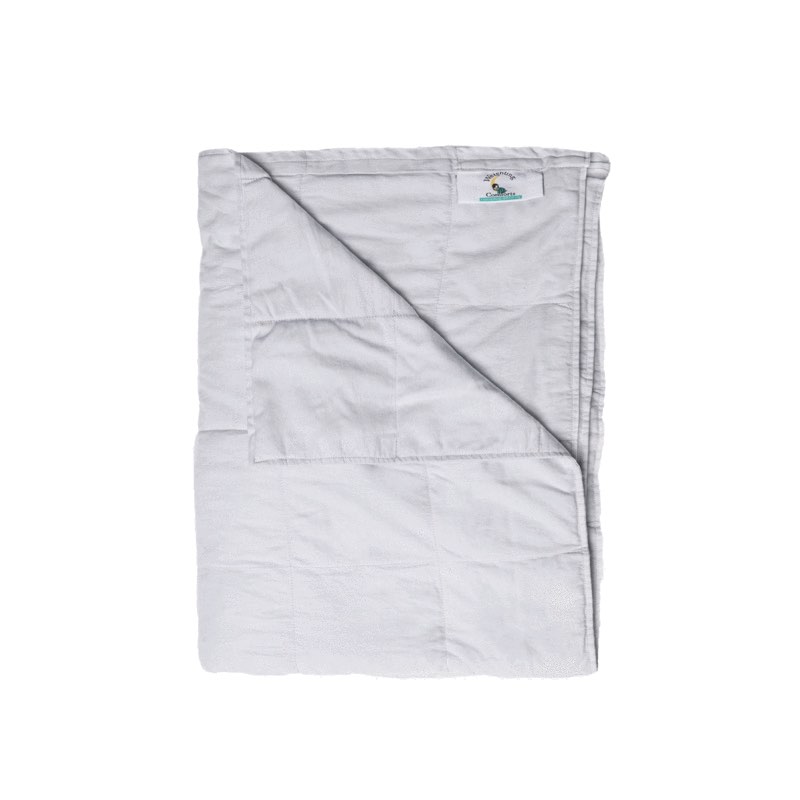 The Weighting Comforts CoolMax is super comfortable, and the quality of fabrics used is remarkable. Each of the quilts is handmade to ensure the best overall quality but, unfortunately, this is heavily influenced the price of the weighted blanket.
One of the primary issues with most of the cover is that they are not available in multiple sizes and weight options, but that's not the case with Coolmax.
You as a user have plenty of options to choose from, and if in case you don't feel 100% satisfied with the CoolMax you can ask for a refund. You can read more about the Weighting Comforts return policy on their website and find more info there. Customer service is excellent, at least to me, so you shouldn't have any difficulties returning your blanket if you're unhappy with it.
The CoolMax blanket has outstanding reviews online but the primary complaint of most of its users is its steep pricing and lack of color options, but then again you never should use your duvet without washable covers and you can use any color covers or sheets as you like.
Pros and Cons of The Coolmax Weighted Blanket
Here are the most prominent advantages and disadvantages of Weighing Comfort's CoolMax weighted blanket.
| | |
| --- | --- |
| PROS | CONS |
| 1. Superior fabric and build quality. | 1. Costly Compared to Others, even to Gravity |
| 2. CoolMax is made by verified refugees. | 2. Limited Color Options |
| 3. Four Weight Options And Two Colors Available |   |
| 4. Machine Washable |   |
Final Words
The CoolMax weighted blanket is a superb choice for most people suffering from anxiety, insomnia, PTSD and those who have trouble falling and staying asleep at night.
However, the comparably very high price can put quite a bit of people off, and I think that's the biggest drawback of it too, at least judging to most Amazon reviews.
Overall, it is a great product – the fabric feels right, the beads inside are quality and they distribute the weight very evenly along with the blanket. Compared to the Gravity product I can probably say that it is on par, if not better to it, but then again, Gravity has a MUCH BIGGER advertising budget, an amazing PR campaign and it seems to be a lot more popular overall.
I can wholeheartedly recommend the Coolmax blanket by Weighting Comforts, but only if you can swallow the eyewatering price tag. Otherwise, check out the competition – there are quite a few options that are on par with it for a lot less steep price tag.
If you want to see the rest of our weighted blanket reviews, you can visit our home page for more detailed information and reviews.