How To Wash A Weighted Blanket? Maintenance And Cleaning Tips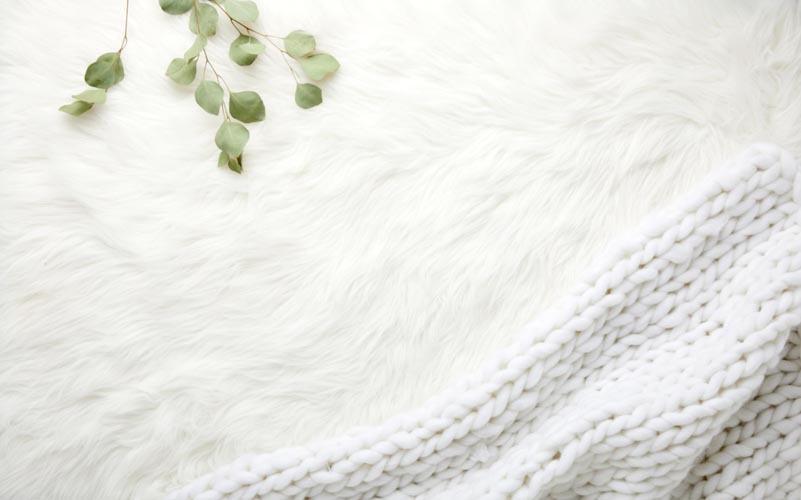 Weighted blankets are important for people who have problems with sleeping. Aside from that, it aids in relieving the symptoms of certain conditions, including anxiety, restless leg syndrome, autism, depression, ADHD, and stress disorders, to name a few.
There are many companies that create and sell weighted blankets, which are made from various materials. These weighted blankets are quite expensive, so, it's important to take care of them and clean them properly.
Cleaning and maintaining weighted blankets can be both easy and a daunting task, depending on the type of material your blanket is made of. When purchasing a weighted blanket, it's essential to consider the overall construction that will affect how it should be washed.
Some weighted blankets have a removable outer cover that can be washed separately. In some companies, however, the inner weighted blanket can't be washed. They have a duvet cover that can be attached after washing. Other companies also have weighted blankets that are fully sewn, which means that everything is washable.
If you're wondering how to take care of your blanket, it all boils down to cleaning when needed. Continue reading to learn more about the washing process of such products, as well as to do's and don'ts. 
How To Clean And Wash Your Weighted Blanket?
As said earlier, there are many ways on how to take care of your weighted blanket. For people who purchased expensive ones, it's better to take care of your blanket, to make sure it will last a long time. Despite the fact that most companies use high-quality and durable fabrics and poly pellets, it's vital to take care of the blanket as much as you can.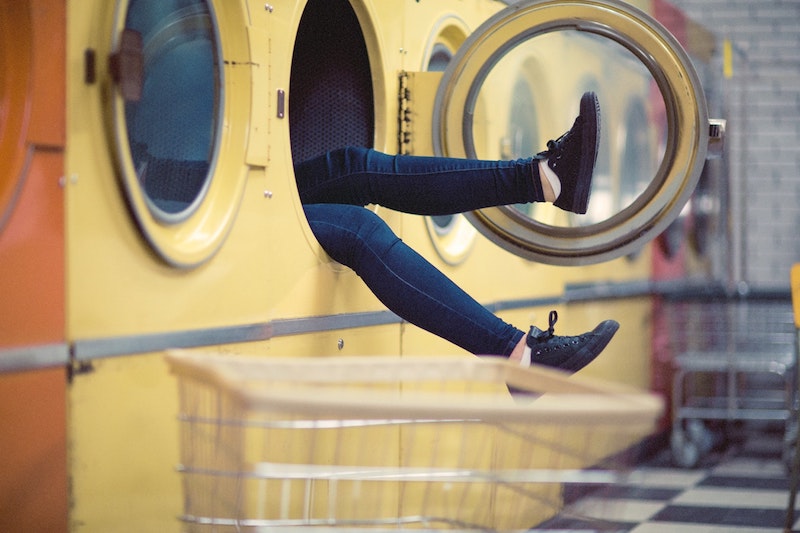 Before you wash your weighted blanket, you should look at your blanket's special instructions during washing. You can check before purchasing a blanket or check the tag on it. Also, check the material to make sure you can wash it safely, without damaging the fabric or the filling.
Gentle machine washed in cold water is generally recommended for most weighted blankets. But, this can vary depending on the blanket's fabric. In some cases, the outer layer is removable, like a duvet cover. You can wash it separately.
The fabrics and poly pellets used to make weighted blankets are very sturdy and durable. But, regular maintenance and cleaning are important to make it last longer. To keep the blanket in top shape, wash it separately with a gentle detergent. Don't use harsh chemicals such as chlorine bleach. For waterproof blankets, you can machine wash them with warm or hot water. But, remember never to use vinegar or bleach so the materials will not be ruined.
What Cleaning Products To Use?
When you're looking for cleaning products for your weighted blanket, always choose the gentle ones. Skip the bleach because it can damage the fabric. Also, avoid using fabric conditioners and other harsh chemicals on your weighted blanket.
Special Instructions
For those with blankets over 20 pounds, don't let your home washer suffer. Take the weighted blanket to the laundromat for a bigger and larger machine for washing and drying. It's important to know what products and temperature to use. Weighted blankets shouldn't be ironed, especially those with plastic pellets inside. The only time you can consider ironing the blanket is when they used glass beads and the fabric is 100% cotton.
How To Dry A Weighted Blanket?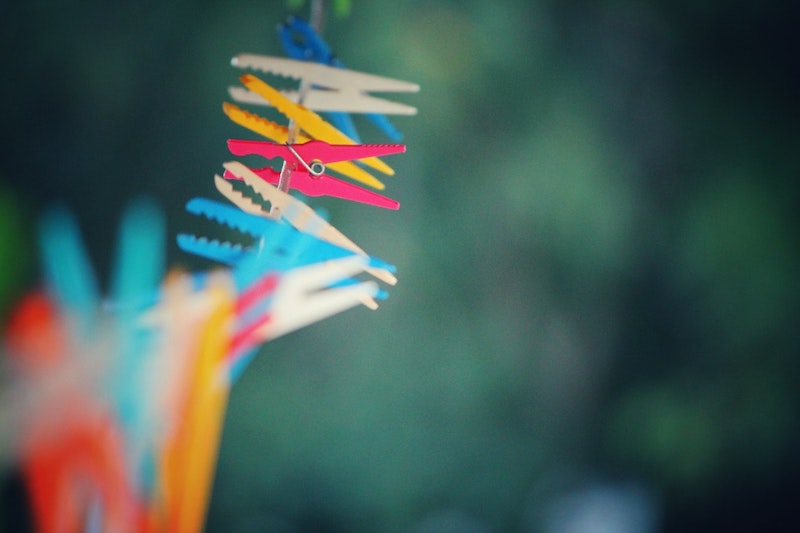 After washing your blanket thoroughly, remove the excess water. You can squeeze the excess water by rolling it tightly or folding it to press the water out. Every about half an hour, shake the excess water out and redistribute the pellets.
Moreover, the blankets are safe to dry in the dryer. The good news is, the pellets can be dried without them melting. But, it's better to hand dry to maintain the quality of the fabric.
Air Drying
Taking proper precautions when it comes down to drying your blanket will keep it in good condition for a lot longer. If you've decided to go the air-drying route, make sure to hang it evenly so that the weight is proportionately distributed, and it does not lose its shape. Sometimes you can't put your blanket in the drier because it might ruin it, which is why you have to read the instructions of your product carefully. A quick tip: after taking your weighted blanket out of the washing-machine, squeeze it out by hand because this item is already heavy enough.
Weighted Blanket Fabric Care

Minky
There are different types of fabrics used in weighted blankets. Depending on the type of fabric, the care may vary, too. Minky is a good fabric for weighted blankets. Plus, it's very easy to wash with its softness above anything else. If you want to wash your Minkyweighted blanket, make sure you wash it alone in the washer to prevent friction with other fabrics.
Cotton
Most blankets today are made of 100% cotton. When your weighted blanket is made of cotton, wash and dry it separately so the fabric won't suffer from wear and tear of friction and extra heat.
Flannel
Flannel is another type of cotton fabric. For this type of fabric, you should wash it with warm or cool water, but never with hot water. High temperatures can damage the fabric in the long run. Also, in washing flannel blankets, avoid over-drying it and just use low heat.
Fleece
In taking care of fleece blanket fabrics, make sure to wash and rinse in warm water. Also, dry the blanket in low heat. For stains, soaking the blanket in water will help loosen the stain. This is one of the materials that can tolerate fabric conditioners, just make sure to add another rinse to make sure it will be washed off completely.
Linen-Rayon blend
Lastly, the linen-rayon blend is another fabric used in weighted blankets. To wash this type of blanket, make sure you wash it with a gentle detergent. If there are stains, it can withstand diluted bleaches or oxygen bleach. However, most of the linen-rayon blankets are dry-cleaned, they are also washer and dryer-friendly.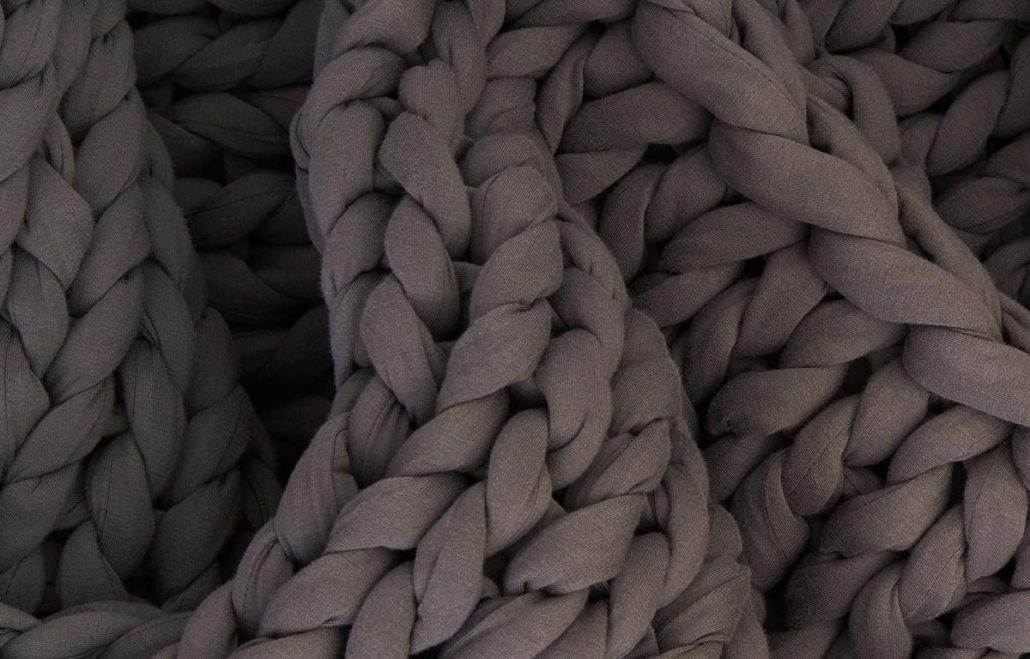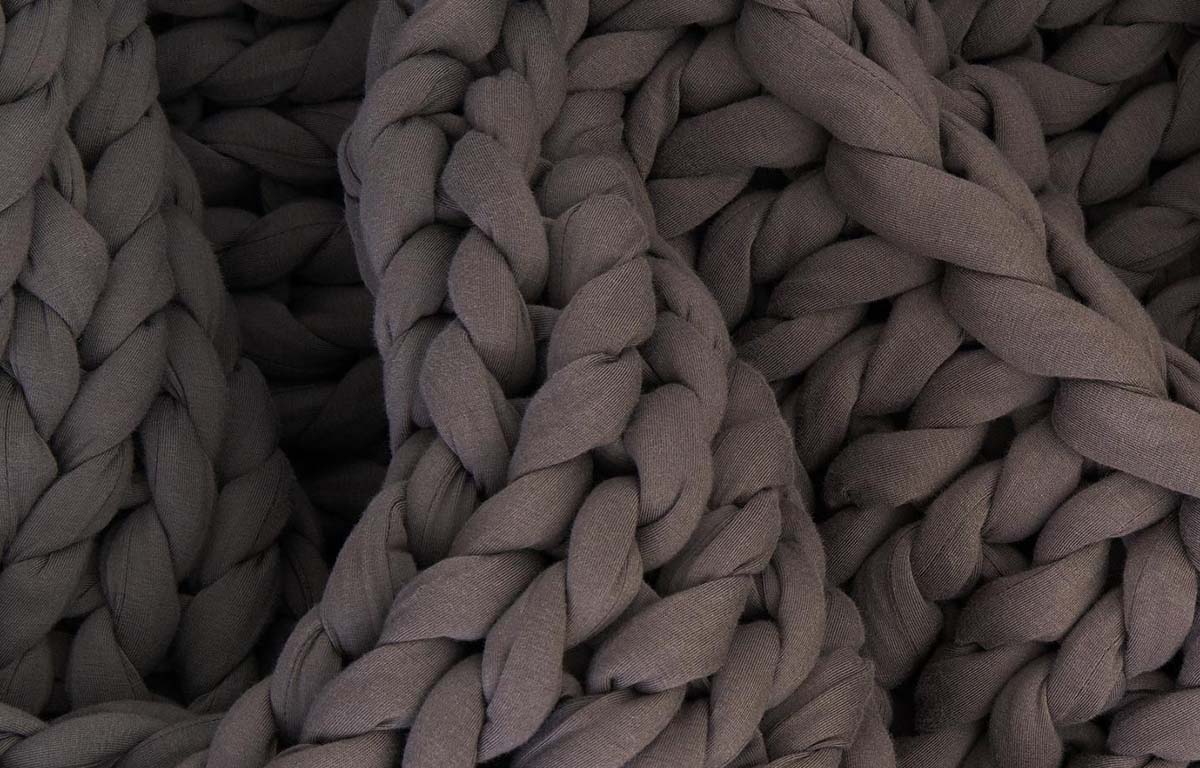 Things to avoid when washing your weighted blanket
We've already mentioned this above, but you need to remember always to use a gentle laundry detergent that does not contain bleach or fabric softener. Some materials used for this type of blankets will allow the fabric softeners to build up in them, which is why we don't recommend their usage in general. No one wants a cover that feels scratchy or stiff!
Let's talk about bleach. The main component in it is chlorine, which will cause the fibers to break down even if it is diluted. You don't want to shorten the lifespan of a blanket that cost you. To sum it up: be mindful of your possession and understand that it requires care and unique washing.
Can you iron a weighted blanket?
We understand the need to keep things looking neat and wrinkle-free, and even though it might be tempting, you shouldn't iron your blanket. The reason for that is that even if the fabric itself is iron-safe, the filler probably isn't. If iron heat is applied to your blanket, the fillers will be melted and ruined in most situations. Glass beads are probably the only ones that may not be damaged; however, the risk isn't worth it.
Ironing may be possible for a duvet, depending on its material. Remember that you can't iron polyester, minky, or fleece, stick to cotton blends only. As for washing the cover, you should adhere to the instructions listed by the manufacturer.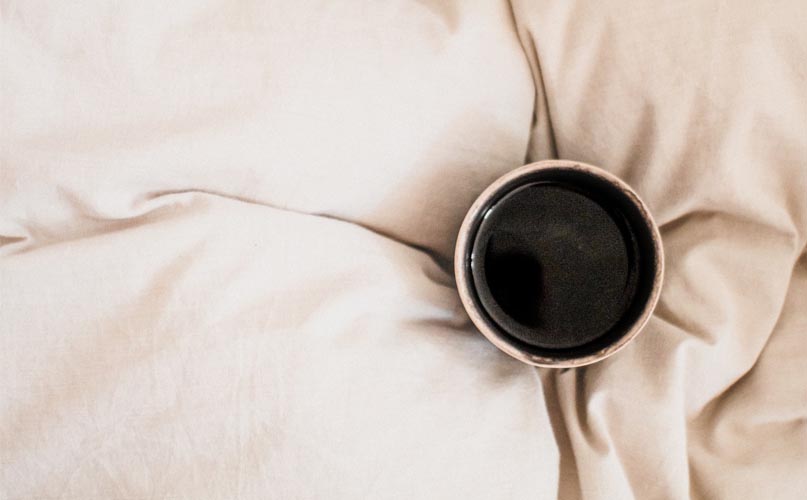 How to get rid of specific stains?
We all know that accidents happen, and something will inevitably come into contact with your weighted blanket at some point. Here are some tips on getting rid of the most common stains from your blanket:
Coffee Stains
The first step into removing a coffee stain will be to dilute an ounce of liquid laundry detergent and an ounce of distilled white vinegar with 10 ounces of water. Next, you'll have to apply them to the stain and gently scrub it with a washcloth. Then it would be best if you let it sit for 5-10 minutes and afterward rince the area with water.
Wine Stains
Red wine stains can be a pain on any fabric. To remove a mark, apply an ounce of distilled white vinegar to the stain and let it sit for 5-10 minutes. You'll want to blot the spot with a wet towel and then a dry one. Sometimes vinegar won't work, so you can try an enzyme stain remover. If you go that route, you'll have to let it sit for half an hour and then wash it in cold water. Don't put the blanket in the dryer because heat will set in any remaining stain.
Urine Stains
As you may already know, urine is highly acidic, and getting rid of stains can be quite tricky. You have to option to remove them from your cover. The first one is when the blanket is still wet. In that version, you have to use soap and water and that should be enough to take care of the stain and pungent smell. However, if the spot has dried off, you want to use an enzyme laundry stain remover.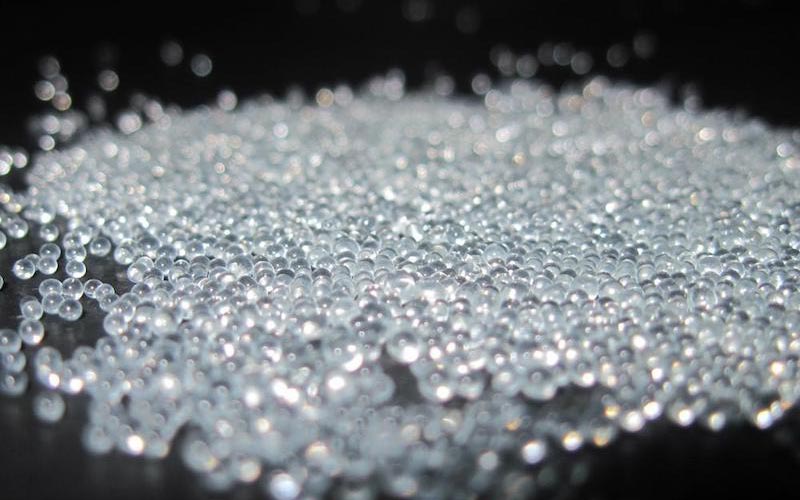 Which weighted blanket fillers are wash-friendly?
Today the market has grown immensely, and with that, the options we get to choose from. When it comes down to weighted blanket fillers, some are better than others, but we will talk about the possible alternatives and which ones are wash-friendly.
Glass Beads
Micro glass beads are our personal favorite fillers out there because they are tiny and virtually noiseless. Not only that, but they hold up exceptionally well in the washer, and you don't have to worry about them melting. The best part is that the blanket dries up quickly because of them and doesn't clump up.
Steel Beads
If you're looking for a heavy blanket that's not too bulky, the steel shot beads are another great option. As said in their name, they are made from steel, which means they are quite heavy, and you should avoid washing set blanket in a washing machine, especially since they can rip the fabric and seep out of the blanket.
Plastic Poly Pellets  
Usually made from ABS virgin plastic, these pellets shouldn't be washed on high temperatures since you run the risk of the pellets melting and clumping together. The positive about them is that they haven't been exposed to toxins or chemicals, making them a great option, just not one for the washer.
Organic Materials/Food
Let's just say that organic materials might be cheap, but they are not a long-term solution. If you are looking for an affordable option such as this one (rice, corn, etc.), you have to consider that it can turn into a real soggy mess, and you're risking mold, yeast, bacteria, and insect infestation. Leave the DIY projects for something else and check out these awesome Luna weighted blanket for under 50$.
Sand
Just as the food option, sand is a cheap filler that comes with much the same problems. Usually, sand is semi-organic, so the risk of insect infestation, mold, or yeast development is still possible. If you end up washing a blanket with sand, it will most likely clump up or seep through the fabric.
Pebbles
Even though this is an option, we don't recommend purchasing a blanket filled with smooth pebbles. A rock is still a rock, and who wants to sleep under one, let alone wash it?
Final Words
We really hope that this article really helped you take better care of your weighted blanket and protect it from the elements for years to come. If you took the chance and made a DIY heavy blanket you'll know how much effort goes into making one and why it is important to protect it from mold and other damages. 
If you're still on the market, please visit our best weighted blankets comparison and choose the best one for your needs and budget. There you can find all the benefits heavy sensory blankets can provide too. Looking forward to hearing about your experience in the comments below.