Gravity Weighted Blanket – A Kickstarter Project Gone Great
Gravity is one of the well-known weighted product manufacturers on the market today. Initially started as a Kickstart project, it has become an established brand in the sensory blankets industry.
I had the chance to test one for a week and the results were much better than expected. The Gravity blanket is comfy, well-built and above all, I felt like it helped to relieve me from my mild anxiety symptoms and I had some of the best sleep in months. There is no question why it tops our best recommended weighted blankets list.
Please read on to see the science behind it, my thoughts and experience with the Gravity, and why it's definitely worth buying!
Gravity Weighted Blanket – How Does It Work?
The good thing about it is that it has been proven to not only to help those with sleeping problems but also, aid in addressing other mental health problems as well. Aside from that, weighted covers promise to help you fall asleep faster and they can dramatically improve sleep quality.
Some people experience anxiety and other unpleasant emotions that may hinder them from having a good night's sleep. Using a weighted comforter can help reduce anxiety, calm the mind, and relax the body, promoting sleep.
What's the science behind it, anyway? Based on various studies and articles I've read about the Gravity product, it all boils down to deep touch pressure. Deep touch pressure is a type of therapy wherein a consisted of pressure is applied across the entire body during sleep. It has many health benefits, but the most relevant one is increasing the levels of serotonin in the brain. In turn, serotonin can help relax the mind and body, improving your quality of sleep.
Build Quality And Materials
The Gravity comforter is an eye-stunner. When I first held it, I instantly felt the quality of it because it does not only look good, but it feels good, too. The Gravity blanket is made with an exterior micro-fiber fabric that's very comfortable and feels nice on the skin. I immediately fell in love with its texture because it's soft and warm at the same time. It also comes in three gorgeous but classic colors – space grey, galaxy blue, and moon ivory.
For its internal filling, it contains microbeads that are uniformly distributed. It has high-quality gridded stitching to make sure all the beads stay in place. One of my favorite things about the Gravity blanket is that both the external and internal materials are machine-washable, so it's no hassle to wash, clean, and maintain.
In terms of the company returns policy, they offer a 30-day return policy as long as the item should be unopened, and undamaged, and you should contact support to make sure the return is valid. However, you should cover all return shipping packaging and charges.
For an opener, but undamaged package, the item should be returned within 14 days of purchase.
Is It Effective For Anxiety?
I had the chance to personally try the Gravity weighted blanket and to tell you honestly, I had one of the best naps of my life. There's something in the comforter that relaxes both my mind and body. Plus, I observed that I fell asleep faster than before and I slept better, too, all through the night.
Yes, it's quite expensive if you compare it to other brands on the market, but I really do think the product is well worth the price. The design, build quality, and fabrics feel are all top-notch. Also, when buying something, always think about the benefits you will have. With Gravity, you can sleep better even if you experience unpleasant emotions such as anxiety and restlessness.
Weighted blankets provide comfort, relaxation, and quality of sleep for people with various conditions. These include autism, ADHD, stress, insomnia, and other mental health issues and the Gravity product is no different.
For me, I'd do anything just to calm my mind and body when I experience anxiety and this one has helped me with that. Overall, I think its price is worth the product.
Variations of the Gravity Weighted Blanket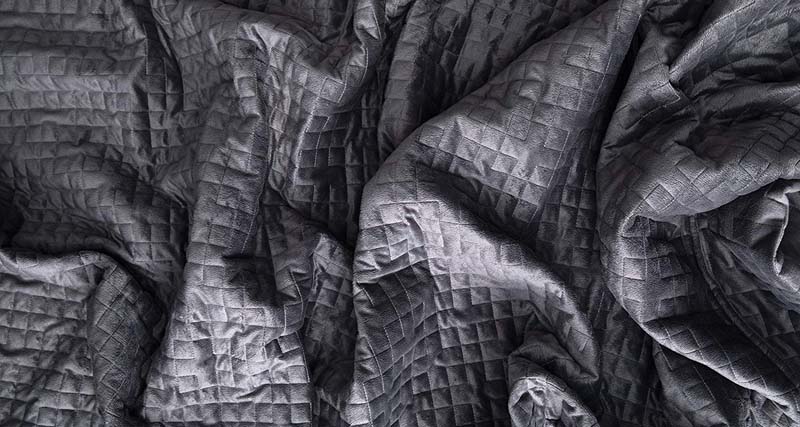 The Gravity blanket started as a Kickstarter project in 2017. They raised a staggering $4.7 million from about 24,000 backers, thus, the birth of a plush, elegant, and effective duvet that weighs up to 25 pounds.
The weight ranges from 15 pounds and 20 pounds to as much as 25 pounds. But, one drawback is that it only comes in one size – single. I tried the 20-pound version of the Gravity and it was well suited for me. I had no problem with the weight as it's exactly what I needed for a good night's sleep. However, couples and families might find the one size slightly inconvenient.
The blanket weight should be about 7 to 12 percent of your body weight at around 72 inches by 48 inches, which is big enough for anyone's body frame. In fact, with its size, you can squeeze two persons under the duvet but just – not too much room left. But, it was originally designed as a single size.
Today, it has sold more than 60,000 products, which only means one thing – people love it! I did too if I have to be honest.
Final Words
So is it really worth it?
The answer is a resounding "Yes!", the Gravity Blanket is very well worth it to buy in 2022. If you need warmth, security, and comfort, this blanket is definitely for you.
Weighted blankets, in general, provide many health benefits, including reduced anxiety and stress. But, the Gravity exudes sophistication and elegance with its high-quality materials. It's made for comfort and relaxation – a few things that most people in the modern world are looking for today.
After using Gravity for a week, I can now see why the brand quickly made a name for itself. It's now a leading brand for sensory blankets. From my personal experience, it's definitely a superb product. I highly recommend it for people with insomnia, anxiety, and other sleep problems.
It is very well-made and feels like a premium product that managed to help me fall asleep faster and sleep better through the night. It helped calm me down during the night and alleviate some of my anxiety issues altogether.
On the second night of using it, I woke up rejuvenated and fresher than ever – I couldn't believe how well I slept the night before after months of restless nights and almost chronic insomnia.
You have to see what the right weight is and size for you before ordering it, but I can highly recommend the blanket and I, after using one for a week, am a converted customer for life. Overall, highly recommended!!!
If the Gravity blanket review is not quite to your taste, and it will soon be updated, click here to see the rest of our weighted blanket reviews and see if another product might fit your situation, and budget, better.