When you're on the lookout for a weighted blanket, what you need is a company that offers a variety of sizes in blankets. However, that doesn't mean that the ones offering only one size aren't of good quality, but we all what options, and the more, the merrier. Therefore, if you are thinking of buying a number of blankets for your family, your loved ones, or even just one for yourself, we suggest that you consider the Luna Weighted Blanket. Not only do they offer a variety of sizes, but weights and colors as well. What better than that you might ask? Well, we are going to give you our personal review of the product and share our opinion of what makes it a top choice.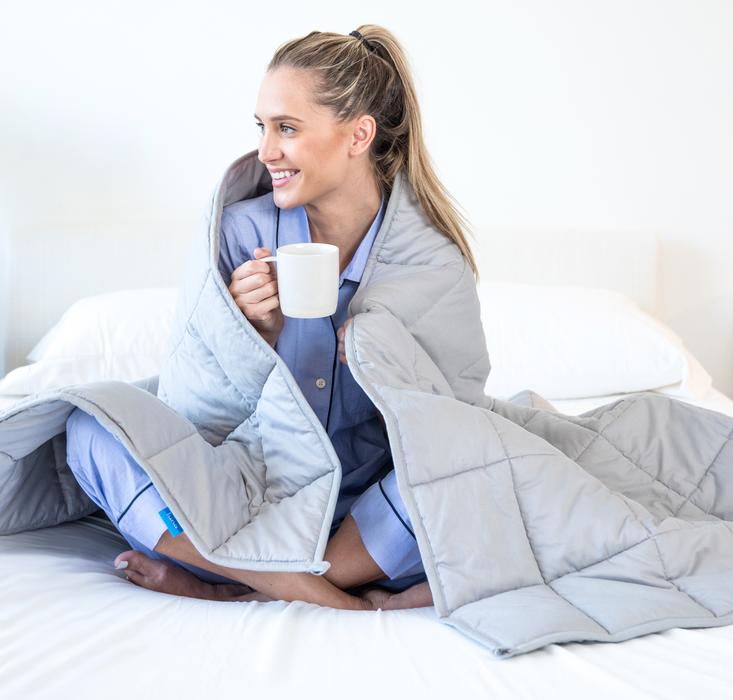 Luna Weighted Blanket Specs
Fabric & Filling
The Luna weighted blanket has been created using computer software, as well as precise computer sewing, which makes an exceptionally high quality and luxury product. Thus, it is a fantastic choice for consumers who are looking for a long-lasting blanket that provides superior quality compared to others. Luna's blanket is made of breathable cotton, and it's filled with glass beads which maintain a calm and quiet atmosphere, that many of their competitors lack. You get your money's worth with this weighted blanket, made from 100% Oeko-Tex certified cotton, and the glass beads are held within through splendid fibers that create an even distribution of the beads throughout the blanket.
Breathability
Accordingly, the blanket is considered highly durable and comfortable by a high percentage of its users. The company has created a breathable blanket, by constructing air channels, which keep the air circulating and assure of a comfortable temperature whilst sleeping. With a fantastic 400-thread count cotton makes the Luna blanket's shell, and it adds quality to the 100% organic cotton. Unlike other blankets, Luna has an All Climate Cooling Cotton, whose job is to absorb any moisture from the body and assist the sleeper if they're hot whilst sleeping.
Deep Touch Stimulation
This blanket's stitching is standard 4 x 4 squares, and the double-stitching of it makes sure no beads can fall away during a night's sleep. Furthermore, it has Deep Touch Stimulation, which creates a hugging-like sensation, that holds you down while you're sleeping. Don't worry, you won't feel confined; it will just limit your movements in order to help your body rest as much as possible through the night.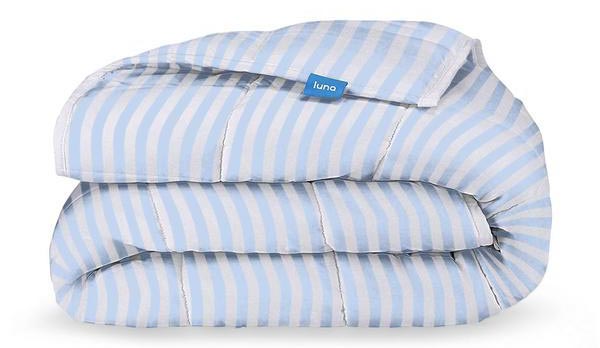 Size &Weight
If you're wondering what we meant when we said it has many options, you're about to find out. Luna's innovative design proposes the following weights, sizes, and colors to fit any customers' needs.
Kid – 36×48 inches, 5lbs
Twin – 41×60 inches, 7 or 10lbs
Full – 48×72 inches, 12,15 or 20lbs
Queen – 60×80 inches, 10,15,17,20,22 and 25lbs
King – 80×87 inches, 20,25 and 30lbs
Colors Options
Unlike many other companies, this one offers a huge selection of weights and sizes, which can fit into so many sleepers' needs. If you're picky when it comes to colors here are the ones which Luna has manufactured for your colorful needs:
White
Dark & Light Grey
Pink
Light Blue
Navy
Ivory
Mint Green
Boxed
Keep in mind that some of the sizes might not always be available in each of the colors set above. With that said, the reason for that is the high demand for the manufacturer's products. If this comes to be the case in your situation, don't worry, Luna has exceptionally helpful customer service, who can guide you on how to receive your wished product. They even have some children customized blankets with drawings such as dinosaurs, which is probably the only brand that offers such an option. If your someone who's worried about the stains your blanket might get, there are two possibilities to consider. Firstly, Luna not only manufactures weighted blankets, but they offer duvet covers for all sizes! On the other hand, if you do love the color of your excellent product and don't want to spend the extra cash, they have made sure to make your life easy and they've created the blanket to be machine washable. However, the manufacturer advises on putting the blanket to wash on a gentle setting and low heat in the dryer.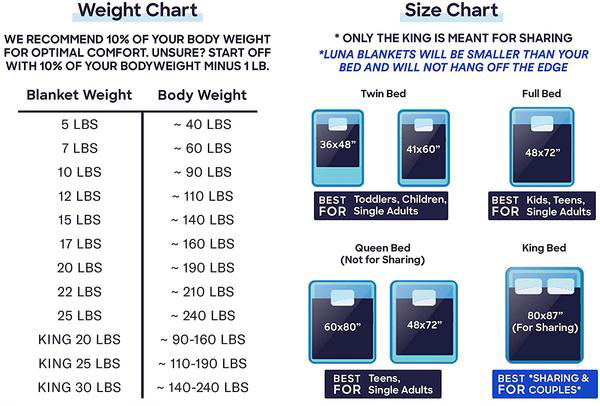 How to choose the appropriate Luna weighted blanket?
If you have never bought a heavy blanket before and aren't sure how to choose the right size for yourself, the following is advised by medical professionals. Your best choice is first to consider your own weight when choosing a weighted blanket. If for example, you weigh 120 pounds, the blanket for you would weigh 10% of your weight, which in this case will be 12pounds. Because of the weight distribution, you're not supposed to feel the blanket too heavily on your body.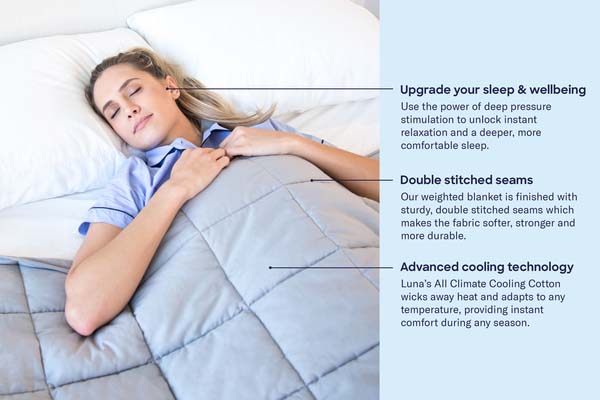 What if I don't like the Luna Weighted Blanket?
Even though we absolutely love the blanket, there are so many people out there, with so many diverse opinions. That's why the Luna company proposes a 100-day sleep trial for you to be able to have enough time to make a thought-through decision. In case you're not happy with the Luna blanket, all you have to do is contact the helpful customer service provided by the company, pack the blanket nice and tight and send it back. Of course, that is if you haven't created any damage such as burns, cuts, or others.
I have some allergies, will the Luna blanket create further issues?
Well, we're sorry to hear of your allergies, however, not to worry! The Luna company is created by people for the people. It is a hypoallergenic, earth-friendly blanket that is made with non-toxic glass beads and doesn't have any harmful substances or chemicals. That is because Luna aims to fill the world with people who are calm, happy, and stress-free!
Final words
When we first heard of Luna, we thought it is too good to be true. It has so many perks and admirable qualities you can find. However, now that we have used the blanket and seen the product in our space, we would place the Luna Weighted Blanket in our top three choices. It is a fantastic product, and we would suggest that you give it a try before you deciding whether you like it or not. Plus, you can always return it if you don't. I have kept my Luna blanket and have suggested it to most of my friends who have sleeping problems or daily anxiety issues. So that they can give it a try, as I have, and see what it feels like sleeping on clouds. Clouds! That has made my dreams so light and my days so much better.