Hey there! We're back with another weighted blanket review, after testing a range of different brands and products we're sharing our experience to help you make the right purchase! I bet some of you are wondering what the hell is that, isn't it just a regular blanket, but no! This is a heavy blanket, which depending on the size could be between 5 and 25lbs. If you are asking yourself what can make a blanket so heavy – they are usually filled either with plastic or glass beads which fill the whole of the blanket and create the weight. This product can be extremely beneficial for anyone, and if you want to know how, stick around, and we'll let you know.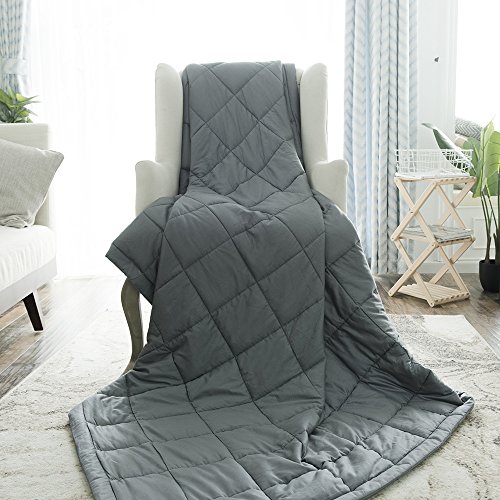 BUZIO Weighted Blanket Specifications
Okay, so when it comes to the Buzio, there are a few different things that we should consider when thinking what makes it an outstanding product. These things include – fabric, filling, weights, sizes and the health benefits it can bring. In this article, we will look at each of these things in detail, to make sure that you know what you're buying and why. Here are the most important things to consider:
The Buzio weighted blankets are created solely from cotton, as it is a great, breathable fabric which allows the product to maintain a certain temperature. By using set material it makes the Buzio blanket a cooling one, thus whenever you are feeling super hot, you don't have to worry as the blanket will help your temperature come down. This Buzio product is one of the few FDA and Oexo-Tex Standard 100 Registered, which means the fabric is rid of toxic materials and doesn't have anything that could harm your body. Therefore, the Buzio is ideal for any kind of environment, as well as any body temperature. As the cotton used in the Buzio blanket is entirely natural, it's created to assist you on hot nights and not add to the temperature of your body. That doesn't mean it won't keep you warm when you're feeling cold.
As previously said, the weighted blankets are usually filled either with plastic pellets or with glass beads. The filling is essential, as it makes your experience when you sleep soundly, or in some cases, you don't. Plastic pellets are lighter, and in order to fill a blanket to a certain weight, they would use a large number of shells. This would then make the blanket bulkier and more oversized. On the other hand, Buzio blankets use glass beads which are considered the best filling for such a product. Glass beads are better, as they are incredibly tiny and when filled, the feeling of the blanket becomes much smoother. Furthermore, the glass beads assist the Buzio blanket by making it less noisy than most of the plastic-filled options.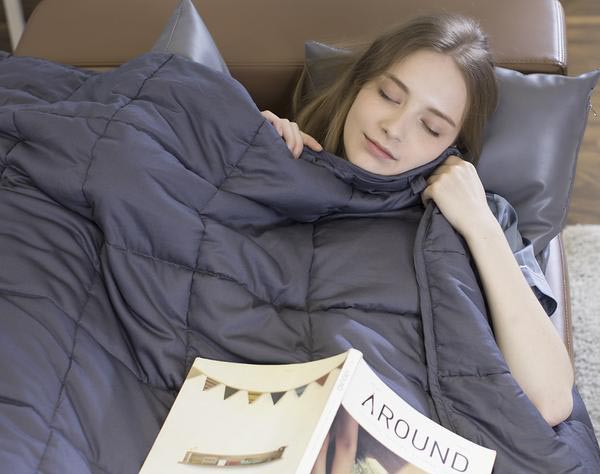 If you have been following us, you are probably aware of the 10% rule when it comes to choosing a weighted blanket. If you don't know what that means, it is straightforward. When purchasing a blanket, your best bet is to buy a blanket with weight 10% of your body weight. For example, if you're 170lbs, you should buy a blanket that is around 17lbs. Weighted blankets are not the best for young children, even though you might find some propositions of tiny options. However, if you wish to buy such a product for your child, we suggest you talk to a health professional first. The Buzio blanket comes in three different sizes.
7lbs – this would be suitable for people between 50 – 90lbs.
15lbs – a blanket for people weighing between 120 – 180lbs.
20lbs – the third option is suggested for people between 170 – 230lbs.
There isn't a strict rule that you should follow the 10%; however, it has been tested by a number of people who all agree with the set statement. We don't discourage you from experimenting, but it's important to think twice when buying a weighted blanket because if you don't choose the right one, it might not be as beneficial. If the product is too heavy, you might feel trapped and suffocated, and it might lead to more issues than pluses. The 15lbs blanket is 60x80in, which is a considerably sized blanket.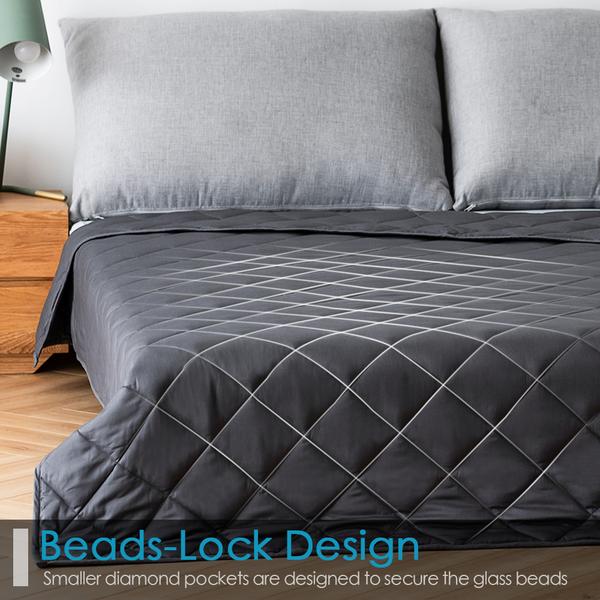 Okay, enough about the specifications of the blanket, you're probably eager to find out how could a blanket, possibly be beneficial for your health. Well, we're here to surprise you, as weighted blankets were scientifically created to make people feel better on a daily basis. Don't get us wrong, it's not some magical cure that will rid you of all your problems, but it is a worthy companion.  The Buzio blanket comes with the following health benefits were:
Falling asleep faster
Faster falling asleep from day one! I have had issues with falling asleep; however, Buzio's weight helped me fall asleep faster. This is because the heaviness of the blanket helps the brain after a stressful day, therefore it calms the mind through weight.
Fewer body pains
Another benefit was, not as many body pains when it comes down to waking up. I work at a desk, so I tend to have a lot of back issues. What helped with the Buzio blanket was the hugging sensation it created. In other words and more specifically scientific ones, it's called Deep Touch Stimulation which holds your body in a hug and limits any unnecessary movements. With that said, I didn't feel like I lacked freedom, and it cured my back troubles significantly.
Helps with anxiety
I advised some friends with anxiety to try out the Buzio blanket, and they informed me that after a week, they were feeling much less anxious and stressed, due to the relaxing feeling Buzio creates for your body. It can be super helpful for people who are dealing with anxiety, insomnia, PTSD, and even autism.
Final words
To sum it up, Buzio is an excellent option for a weighted blanket that many people and their sleeping problems. If you're worried that you might not like the Buzio blanket, you can always request a return since its sold on Amazon. Remember to give it a try and don't be too skeptical, I was also at first, but now I love this Buzio item and advise all my friends and family to get one, as it's affordable and incredibly useful.