You're probably already familiar with weighted blankets, and for the last couple of years, the amount of products that can be found on the market is endless, which can be overwhelming for an inexperienced customer. Have you ever thought about the ones for couples? If you share a bed with your loved one, the dilemma of getting two separate blankets or one for both people is inevitable. That's where we come in and try to save the day with our "best weighted blankets for couples" list – help you make the best choice for your budget and specific needs.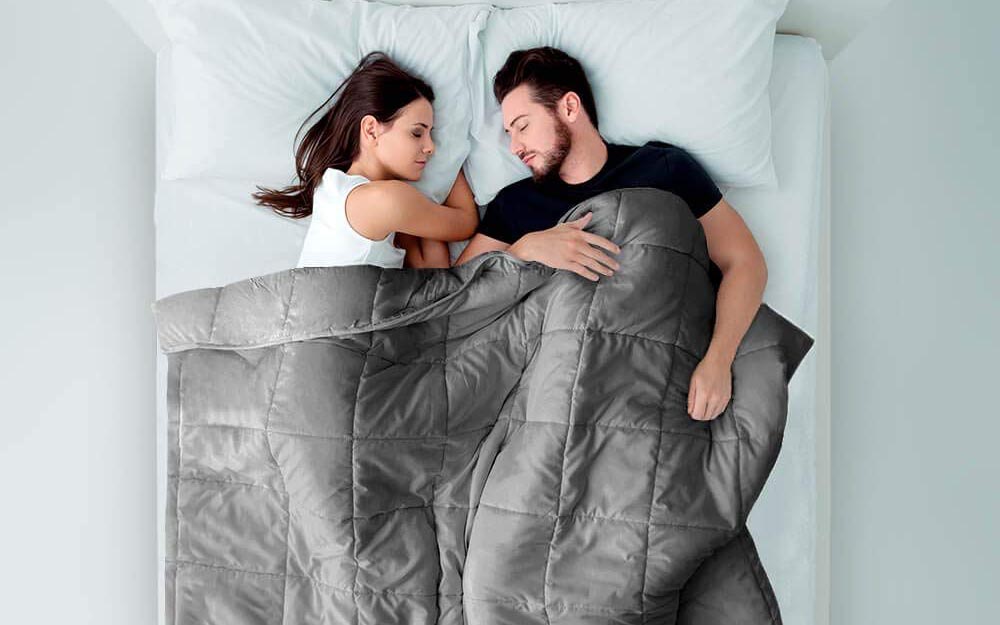 Weighted Journal is a website for weighted blanket reviews that are un-sponsored, thoroughly researched, and as objective as possible. We've carefully tested each product we receive, and that's why we can provide you with a truthful review of the tested items.
We've spent over two years now testing and sleeping under various types of blankets – from the cheap Chinese knock-offs found in abundance on Amazon to the proper quality ones like Gravity and Bearaby, for example. We insist on testing every blanket that we recommend personally, and we spend at least a week with it to make sure it stands the test of time. We've reviewed over 80 products over the last two years, and we are pretty confident in spotting lousy craftsmanship or a cheaply made blanket a mile away.
Now it's time to explore such a blanket's merits and how to figure out what kind of weighted option is right for couples!
Can you Share a Weighted Blanket?
Yes, you can, but with some caution. First and foremost, you should make sure that the couple's body weights don't differ too much. Let's say you weigh 130Ibs and your partner is 220Ibs.
The cover will most likely be uncomfortably heavy for you and possibly light for your loved one. In that case, it might be a better option to get separate blankets.
However, if you are similar in weight, a shared weighted blanket might be advantageous. Not only will you save cash by purchasing only one, but you won't have to think about the pile of crumpled fabric and how to make your bed look more put together.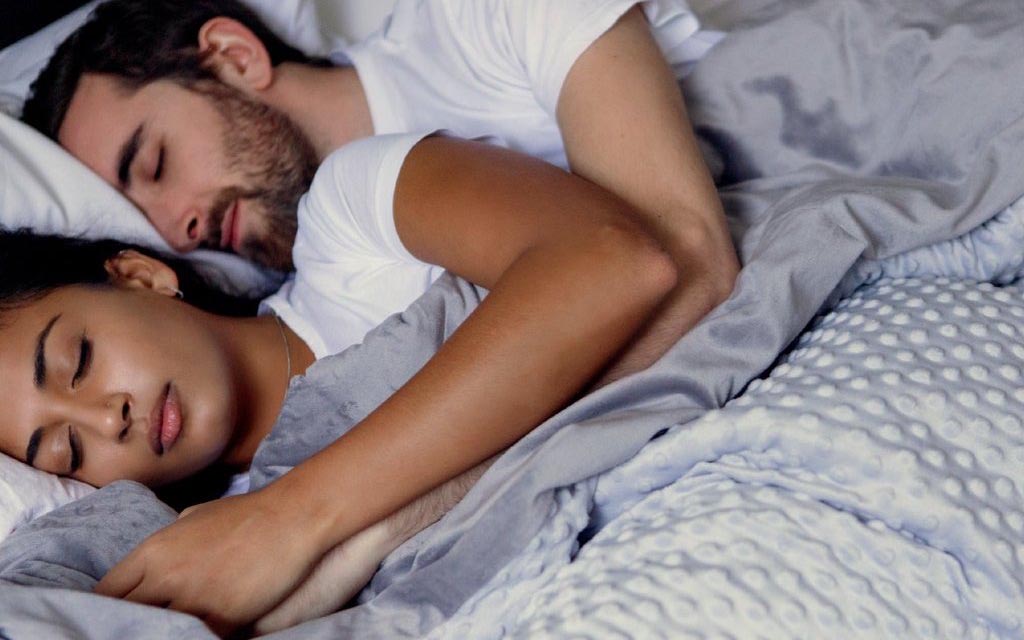 How to Choose a Weighted Blanket for Couples?
As we said above, it's essential to understand your size and weight differences. You will need an item that's big enough to cover you both, but at the same time makes sense given the size of your bed. For example, if you're sharing a king bed, a king-sized option will make the most sense. Just as having a queen bed and a queen-sized blanket.
Another factor that you should take into account is both of your weights. If you're unsure how to decide on the appropriate weight, you should continue reading the information below.
How Heavy Should a Weighted Blanket Be for a Couple?
For an individual, the recommended option is around 10% of their body weight. However, that's not exactly the case when we talk about couples. The ideal measurement will be approximately 7% for you and your loved one. We've created a chart that can come in handy if you're considering the set option with your partner. You can learn more about how to choose a weighted blanket.

What Size Should a Weighted Blanket Be for a Couple?
Ideally, you'll want to find a cover that fits the bed size while both you and your loved one are resting comfortably under it. We don't advise you to get an oversized blanket since it could result in less effective weight distribution. If that happens, your bed will be the one receiving the beneficial effects and not both of your bodies.
Try and get a size that will fit you and your partner without having a "the bigger, the better" mindset. Before deciding if you want to share a weighted blanket or if you will be more comfortable with your own, make sure to weigh all the pros and cons. No one wants to spend their money with a purpose!
Best Weighted Blankets for Couples
1. Gravity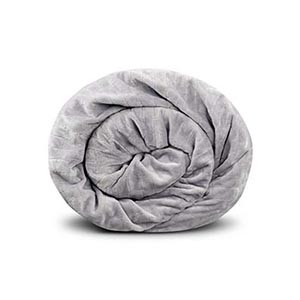 If you need warmth, security, and comfort, the Gravity blanket is definitely for you. It is very well-made and feels like a premium product that will manage to help you fall asleep faster and sleep better through the night.
Made from organic cotton and filled with glass beads that evenly distribute across the internals. Also, the Gravity weighted blanket comes with a lovely cooling effect so that you won't feel hot under it even on warm summer nights.
You can see the full Gravity blanket review here for more information and details about this superior product.
2. Hush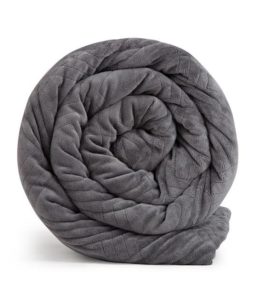 If you're someone that doesn't want to be overheated, we have a great weighted blanket to offer you. Hush will provide you with a constant, comforting hug whenever it's needed. Made of a super comfortable microfibre material and non-toxic glass sand, this blanket will blow you away!
With the classic version, you get breathable cotton, whereas the Iced option is bamboo and cotton. Created with children and adults in mind, Hush easily edges the competition.
Hush blankets have a few variations of their products, including a kids' weighted blanket and a cooling one as well.
The fabric and the cover of the blanket feel premium, the craftsmanship is of the highest quality and it is one of our most recommended blankets to date.
3. Bearaby Napper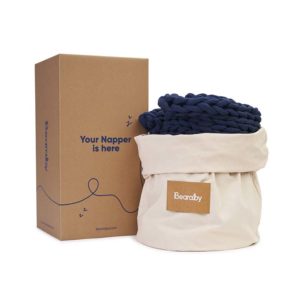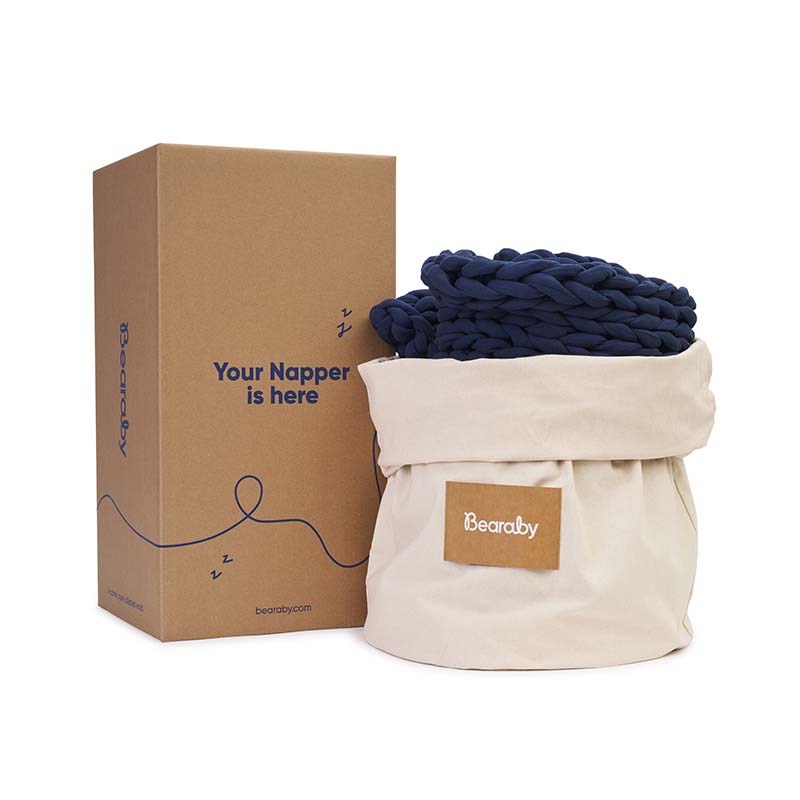 If you're looking for weighted bedding made exclusively from natural materials, Nappers are the only ones we've found that is entirely plant-based and organic. The Tree Napper or Cotton Napper are both great options, so go with your gut!
This blanket's hand-knit look and feel give it a unique style that stands out from more traditional weighted blanket designs. Those wide loop weaves mean a lot of cooling breathability, which is beneficial for those who run on the hotter side.
They even have a children option when the couple turns into a family and you have a little one to take care of and make sure they sleep well too!
4. Layla Sleep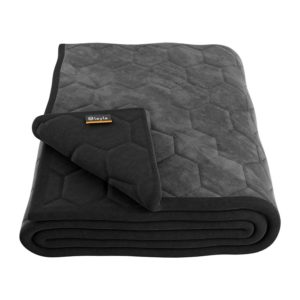 The Layla blanket is made with a combination of cotton, polyester, and mink. Once you touch the set product, you can feel how soft and silky smooth it is. Furthermore, the blanket is created with Deep Touch Pressure in mind, which creates a hugging sensation once it touches your body.
Another perk of the Layla is the filling, it's filled with glass beads that are fine, smooth, and extremely quiet, therefore there is no need to worry about noise if you're turning and tossing at night.
Glass beads also have a cooling effect so the Layla weighted blanket can be a great cooling companion on hot summer nights.
5. Luna Blanket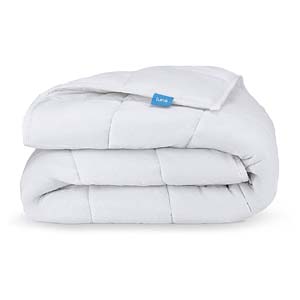 When we first heard of Luna, we thought it is too good to be true. It has so many perks and admirable qualities you can find.
Luna's blanket is made of breathable cotton, and it's filled with glass beads which maintain a calm and quiet atmosphere that many of their competitors lack. Unlike others, Luna has an All Climate Cooling Cotton, whose job is to absorb any moisture from the body and assist the sleeper if they're hot while sleeping.
Overall, the Luna weighted blanket is a worthy addition to this list and it will work wonders for your sleep and wellbeing.
What else should you consider?
You'll have to decide whether you want to share a weighted blanket or buy your own. We don't think there is a wrong answer, just personal preference. However, note that it's not recommended for children and pets to share a blanket with you because the weight can be overwhelming and unsafe for small frames.
An essential factor that might weigh in is the actual construction and filling of the product. Some are better than others. For example, glass beads are the best option for fillers on the market. They provide a smooth, consistent texture and an overall comfortable experience.
Another notable feature is the blanket washing possibilities. Many weighted blankets can't be machine washed, leaving them vulnerable to spills and other mishaps. If the whole blanket can't be easily cleaned, pick one that has a removable cover.
Lastly, you might want to take into consideration your bedroom, your lifestyle, and how important it is to have a well put together space.
Final Words
We hope that as you search for the right weighted blanket for you and your partner, you've found our guide helpful and useful. Just know that it's time to treat yourself and your loved one to the quality of sleep that has been missing from your life.
With one of these blankets, you'll be sleeping soundly and wake up feeling cheerful and ready to take on the day. Start your journey now!