If you're on the lookout for a high-quality weighted blanket and don't know which one to choose or you don't have an idea of how to choose one, you have come to the right place. In this article, we'll be talking about a very specific product, which is suitable for literally everyone. The Rocabi blankets come in different sizes ideal for children and couples alike. Rocabi offers a blanket large enough to fit a small family underneath it. Therefore, if you are in a hurry to make your next purchase stick around to find out why we're recommending this weighted blanket.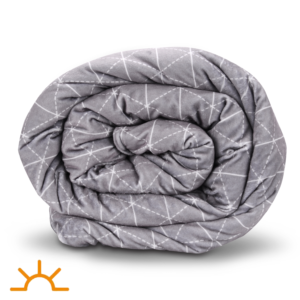 Rocabi Weighted Blanket Specs
When you have tested as many items as we have, you start seeing and feeling weighted blankets and their pros and cons from the very first night. When it comes to the Rocabi blanket, it's by far the most comfortable, luxurious feeling product in our eyes. Let's go through the things that make the blanket so awesome.
Filling
Some of you are probably aware that the weight of the blankets comes from their filling. Some of them are filled with plastic pellets, which are extremely light, thus they use a larger amount, which makes the blanket bulky and oversized. However, the Rocabi blanket is filled with heavy glass beads, which are evenly distributed within the item, and because they are so heavy, the product isn't as bulky as others. Therefore, despite its weight, the Rocabi blanket isn't as thick, and that makes it much more comfortable. If you are wondering what helps those beads stick in one place and not bunch up in one corner of the blanket, the reasons are two:
5-inch pockets which are double-stitched to ensure the even distribution of the beads.
Corner ties on the duvet cover of the blanket (yes it has a cover), which assist further in the glass beads distribution.
The lack of clumping in our opinion is the most important part of a weighted blanket as if the filling of it clumps on one side, it loses all its benefits.
Materials & extras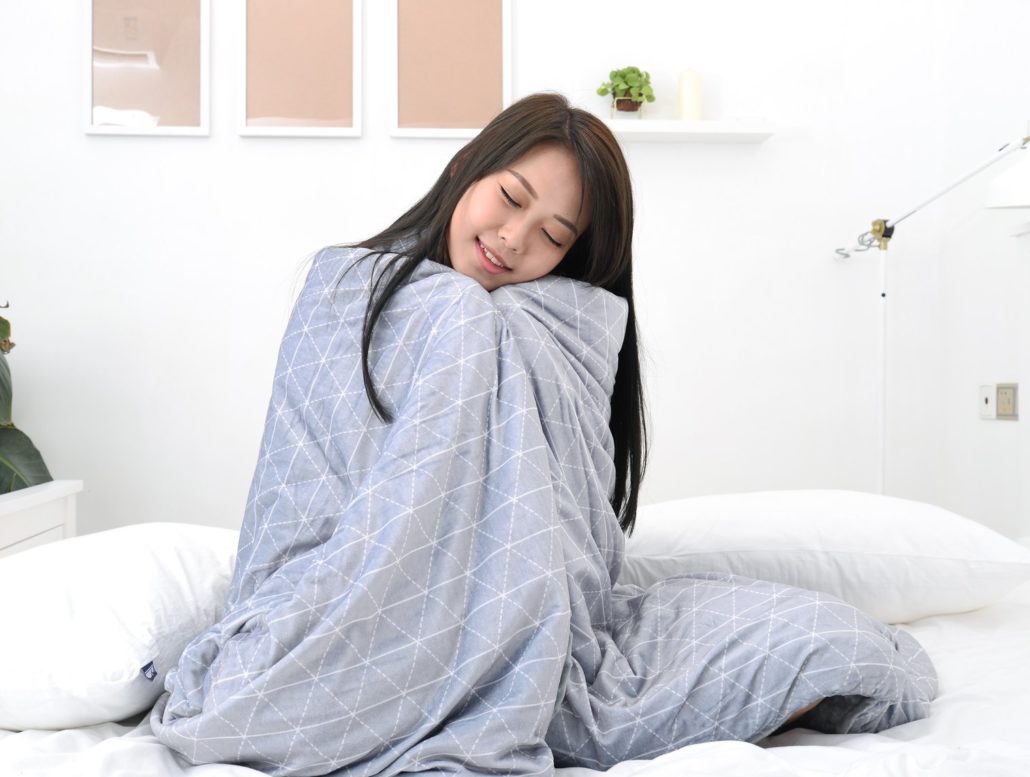 As we said above, the Rocabi blanket comes with a duvet cover, which is a fantastic asset. The set of Rocabi is a quilt and a duvet cover, and both have a luxurious feeling to them. The blanket itself is made of 100% organic cotton, which creates a cooling effect, unlike other blankets which don't have such a perk. So, if you're like us and tend to overheat quickly, we are here to tell you that despite its weight, this product doesn't make you feel too hot, in any condition. Furthermore, because of the two-piece-set, you get to choose whether to use one or both pieces. For example, if it's a hot summer day, we tend to sleep using just the cover, as it has some cool textured dots, which not only look good but leave a pleasant sensation on the body. The duvet cover has a minky feeling to the touch, and it's plush. Therefore you can imagine how snuggly it is. And it also has a concealed zipper, to make it easier to take off and put it in the washing machine when necessary.
Size variety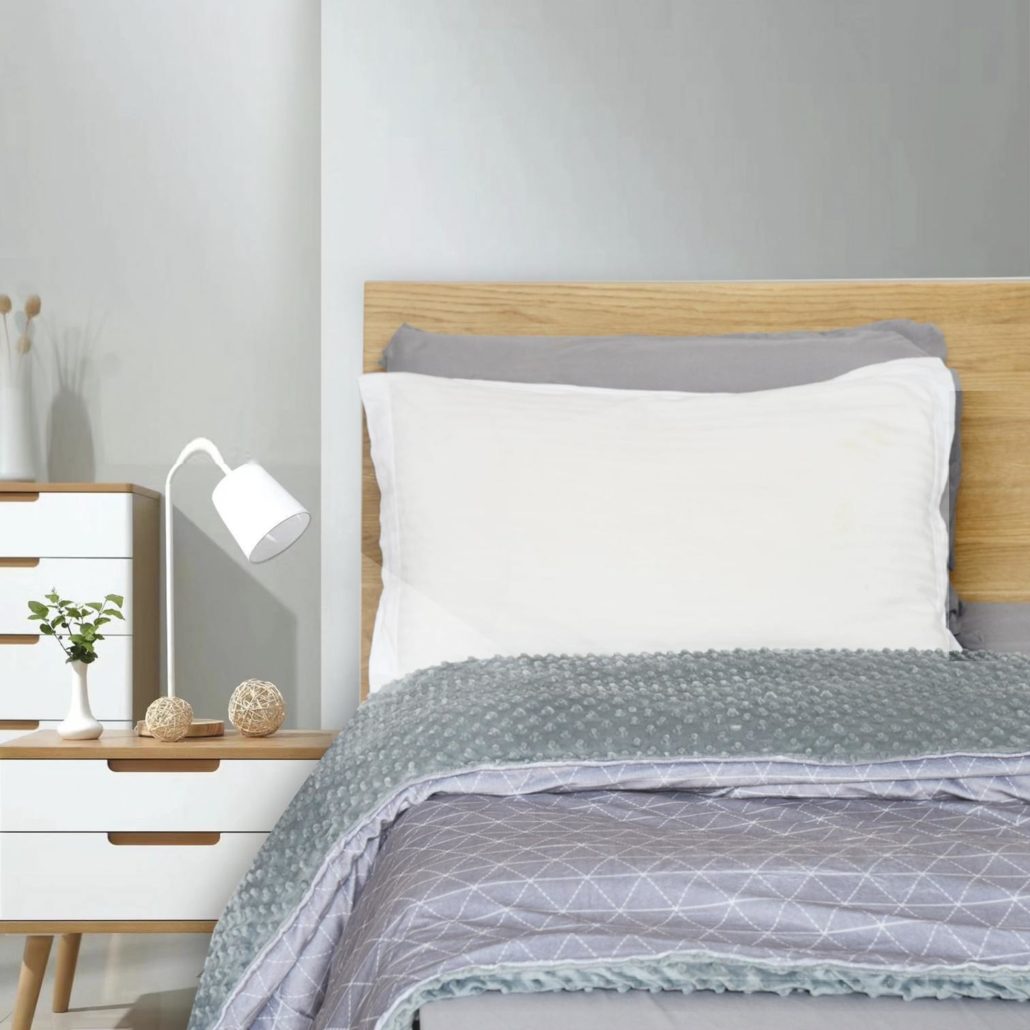 What's fantastic about the Rocabi blanket is the number of sizes you can choose from. It comes in all sizes, from twin and queen to king-size beds, and it can weigh between 5 and 30Ibs. That is by far the largest selection of sizes a weighted blanket offers. Unlike most brands, Rocabi provides the option for children and couples, as well as everybody else. If you are wondering about how to choose the correct weight for your cover, we are here to tell you.
How to choose the right weight for a weighted blanket?
When we first tested a weighted blanket, we didn't have as many weight options as there are today, so we had to try and on the first occasion – fail. We didn't know the formula at the time. However, luckily, we got the opportunity to return our first batch of products. Now, that we know the procedure and have tried so many of them, we understand how to choose the most suited items for you.
Single person
Luckily for all of us, the "formula" isn't some heavy maths, it's so simple you couldn't imagine. So, when buying a weighted blanket for a single person, all you must do is take the persons' weight and buy a blanket which is 10% of the persons' value. For example, if you weigh 170lbs, the perfect size for you would be around 17lbs. Bare in mind, that some say you could get a blanket between 10-12%, of your weight, therefore if you're finding it hard to get an exact number, play around.
Family or Couples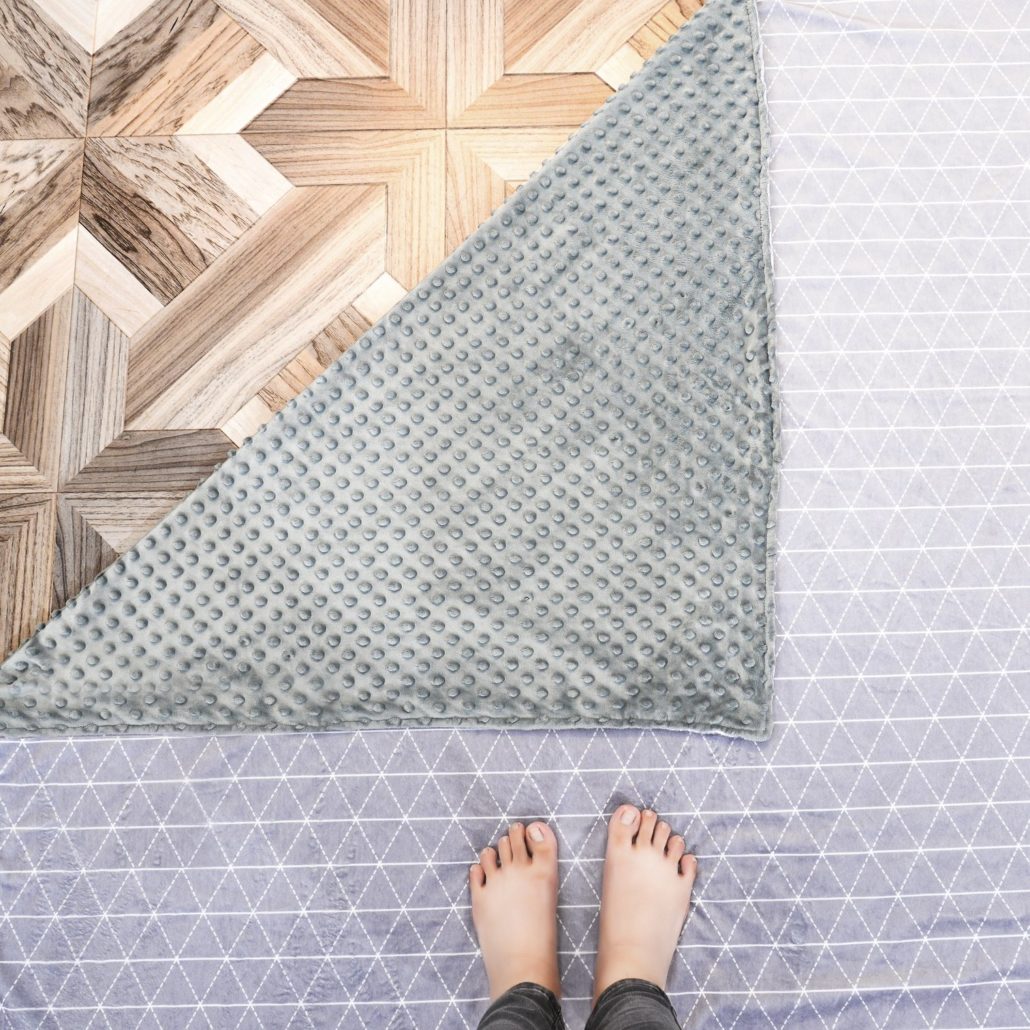 Now, for couples, it's a little bit different. If you're buying a weighted blanket for a team of two, which can be quite rear, if we don't count Rocabi product, the size of the cover should be 7.5% of the combined body weight. Many families can find it extremely beneficial for their health in several ways. However, keep in mind to check with a doctor, if you have some serious condition, as it might affect you differently.
Rocabi Weighted Blankets Health Benefits
The Rocabi blanket has no toxic and hazardous for health ingredients; therefore, it is suitable for people with allergies and intolerances. Once again, we propose you being extremely careful, as your situation might be different. The weight of the blanket is beneficial, as it creates a hugging sensation, which some might say traps your body under its weight. If you're some that have sleeping issues, it assists you in falling asleep faster and releases some happy hormones. Rocabi's product weight helps your body move less; this way, you wake up feeling rested and ready to start the day. With that said, you can still move around, just no more than necessary.
Final words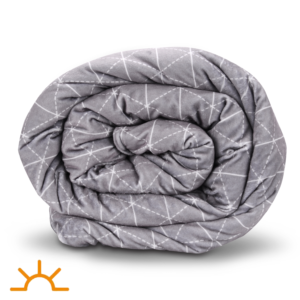 All in all, every time you fall asleep under the Rocabi weighted blanket, you'll feel bliss, and you'll wake up feeling serene and rested. Give it a try, they offer a 60-day return policy, so if you aren't happy with the item, you can always return it.