Nowadays the market is flooded with low-quality products that cost a lot but don't do much. That's why in today's article we'll talk about the best cooling weighted blankets and all the benefits you can receive from them.
WeightedJournal is a website for blanket reviews that are un-sponsored, thoroughly researched, and as objective as possible. We've carefully tested each product we receive, and that's why we can provide you with a truthful review of the tested items.
We've spent over two years now testing and sleeping under various types of blankets – from the cheap Chinese knock-off found in abundance on Amazon to the proper quality ones like Gravity and Bearaby, for example. We insist on testing every blanket that we recommend personally, and we spend at least a week with it to make sure it stands the test of time. We've reviewed over 80 products over the last two years, and we are pretty confident in spotting lousy craftsmanship or a cheaply made blanket a mile away.
What to look for in a cooling weighted blanket?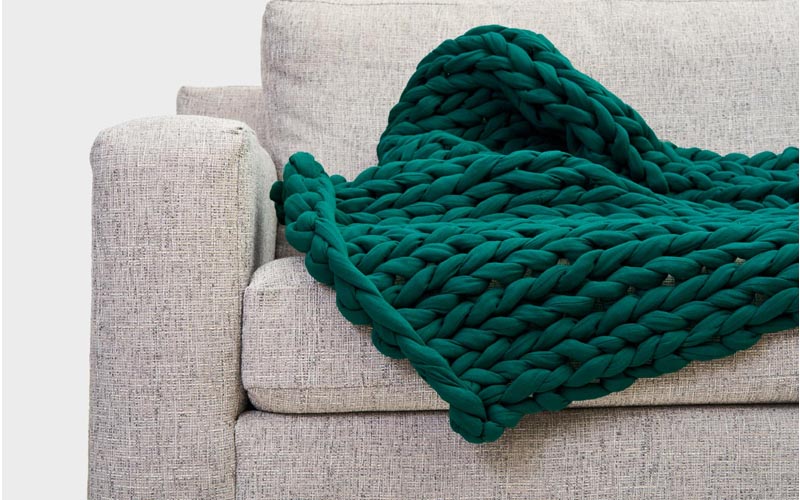 There are a few factors you have to keep in mind in order to find the most suitable blanket for your needs. Here are the features you should prioritize:
Breathable fabrics
Cooling, breathable fabrics are essential. In our opinion, your best options are bamboo, cotton, Tencel, and polyester. However, something to keep in mind, the better the quality, the higher the price.
Type of filling
The first thing we have to discuss is the possible fillers, which are glass, plastic, or poly beads. If you're a hot sleeper you should avoid everything that's not glass, because it will retain heat. Not only that, but plastic is generally lighter than glass, which makes the blanket bulkier in size.
Weight & Size
That really comes down to personal preferences. The current widely accepted guidance is to go for a blanket that weighs about 10% of your body weight, but if you prefer a lighted or a heavier blanket there is no reason to stick to the guidance. The size of the blanket is down to personal preferences and your own size – if you're on the smaller size you'd need a smaller blanket, if you're tall a bigger blanket would be more suiting. 
Washing options
Weighted blankets are designed to be smaller, but we still need an easy way to clean them. After several uses, you will have to wash it, which is why you need an option that is either machine-washable or has a removable cover. If we've picked your interest, keep reading so, you can learn more about the best cooling options and all the benefits that come with them.
Best Cooling Weighted blankets
Weighted products are widely known for relieving symptoms of insomnia, anxiety, and other sensory issues. However, they can turn out to be pretty toasty for summer sleeping. Don't worry because we have a solution and that's cooling blankets! The cover will help regulate your body temperature, and the bedding itself will improve your relaxation immensely. Here are our Top Competitors:
1. Gravity Cooling Blanket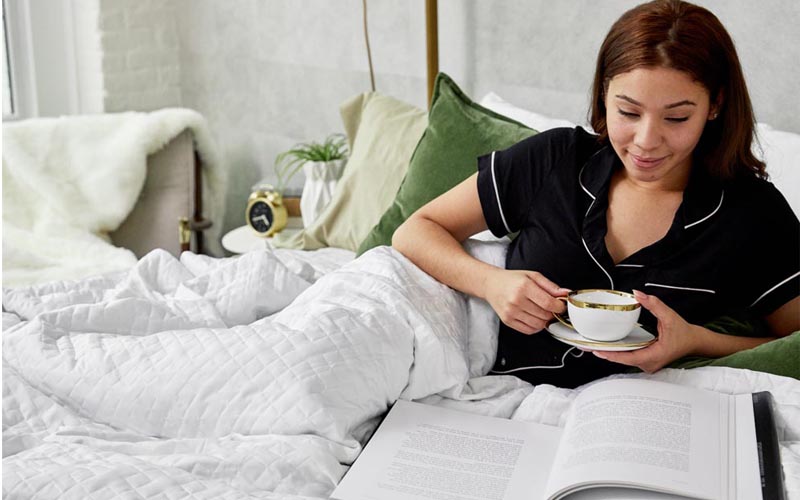 There is a good reason why the Gravity weighted blanket is one of the most recommended weighted blankets. Their cooling blanket is no different from the rest of the range of truly superb products. Let's take a deeper look at their cooling option: 
The Gravity cooling blanket is quite different from the original one as the fabric is very different from it. It is a new, cozier fabric that helps wick away moisture during the night and keep you nice and cool for the duration of the night. it is available in two sizes – single (72″ x 48″) and queen(90″x90″). 
The color combinations are limited to three distinct, but very nice colors – grey, white, or navy. They are supposed to easily match nearly any bedroom interior. The cover is easily detachable from the blanket and it comes it two variations of their proprietary fastening system – buttons and tie hooks and a zipper.
The filling is the usual high-quality fine glass beads that are tightly stitched together within fine pockets. Ther are several weight variations of the Gravity cooling model and they are as follows: 
Single size – 15lbs, 20lbs and 25lbs
Travel & kids size – 10lbs
Queen & King – 35lbs
Overall, the Gravity cooling blanket is a superior product well worth your consideration. It just feels premium, the craftsmanship is top-notch and it keeps you cool even in the hottest climate. 
2. Hush Iced 2.0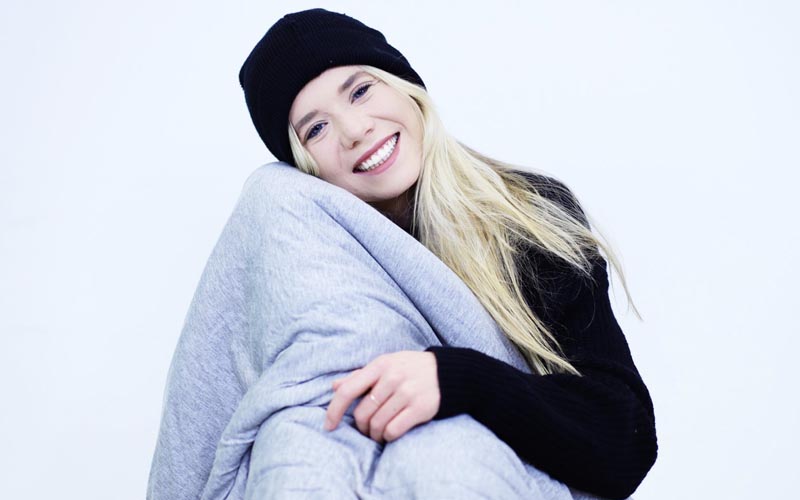 Most weighted blankets are heavy, thick, dense, and fluffy, but Hush has designed a weighted cooling blanket that really, truly works. We've seen plenty of brands try to do so without success, especially some of the cheap Chinese knock-offs on Amazon, but Hush has found the solution to all your needs. 
The Hush Iced 2.0  This product is made of a proprietary cotton and bamboo blend that only contributes to its heat-free offerings. There is only one color – dark grey – but you can always pack it into a cover of any color of choice. 
There are two weight options – 15lbs and 20lbs, which some might find a bit too light, especially in the bigger sizes. The filling is glass sand which is distributed evenly in smaller, denser pockets compared to Gravity. 
The Hush Iced has an interesting proposition as well – it comes with a 100 nights free trial. If you don't like it and it isn't the coolest thing in your bed you're free to return it. Of course, misuse, stains, and all that will void the warranty, but having 100 days to make you mind about the blanket is a major bonus. 
Overall, the Hush Iced 2.0 is on par with the Gravity, if not better so it was really hard deciding between the two. The difference in quality between a blanket like Gravity and Hush compared to the Chinese knock-offs sold on Amazon is astounding. The Hush Iced 2.0 comes highly recommended! 
3. Luna Cooling Blanket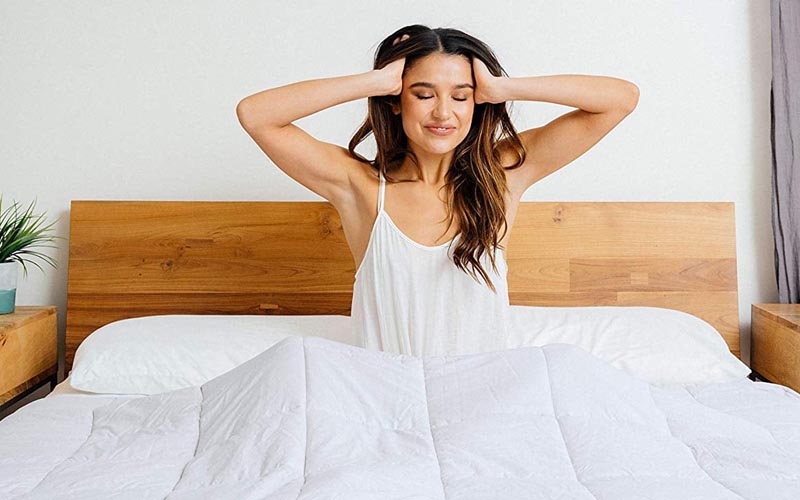 The Luna is the most budget-oriented product on this list, but don't let the low price fool you – the quality of the Luna cooling blanket is far better than other so-called "cooling weighted blankets" out there. Let's take a more in-depth look: 
The Luna's fabric is a 100% lyocell bamboo that stays cool to the touch. Bamboo fiber is one of the smoothest and silkiest materials, which is why we can safely say it's the most luxurious Luna option.
It's available in 5 different sizes: full, king, queen, twin, and even kid-sized model. Not only do they provide you with a lot of size options, you get 9 different weights ranging from 5 to 25Ibs.
Doesn't get any better than right? Well, it does because you get to choose from over 15 other color options, that can give you the final touch you need to decorate your stylish room. The most popular ones are: grey, blue, pink and white.
Regardless of your size and weight, you'll have a choice between numerous options, which include child-friendly versions with cute designs like dinosaurs, unicorns, and spaceships. Made with breathable fabrics, and filled with superior glass beads, this fantastic item will keep you safe and relaxed like no other!
4. Baloo Cotton Blanket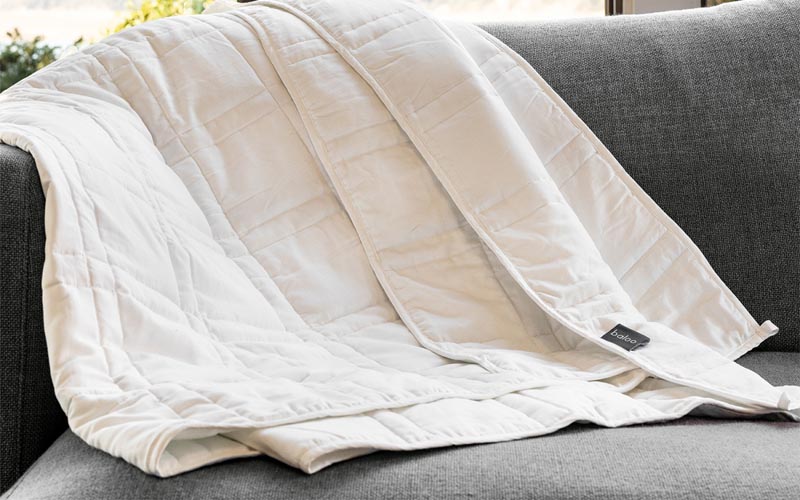 If you're a fan of ultimate comfort and relaxation, and you're prone to stress, waste no time and check out the Baloo Cool blanket! Many struggle to sleep through the night and can't unwind at the end of a long day because they are stressed and tense, which is why this manufacturer created the ultimate cooling weighted blanket to get rid of all your sleeping problems. 
Baloo provides the much-needed feeling of coziness and calmness after a long day. This luxurious product is made out of chemical-free cotton fabric and lead-free glass microbeads to form an incredible eco-friendly blanket for the people.
The manufacturer offers three weight options: 15Ibs, 20Ibs, and 25Ibs in two different sizes (full/queen and king). You can also pink a soft pastel color from six variations, which are white, oatmeal, grey, charcoal, navy, and blush.
We tested it for a few months and totally understand why people rave about these blankets so much. They give you the fantastic feeling of getting a big hug from your loved ones while relaxing and falling asleep peacefully, without overheating.
Having a cool and breathable blanket has never been easier! Baloo is an aesthetically pleasing option that uses Oeko-Tex certified chemical-free materials to produce a weighted blanket that can suit everyone's needs. However, if, for some reason, you end up not liking it, they have a 30-day return policy and a lifetime craftsmanship warranty.
5. Bearaby Tree Napper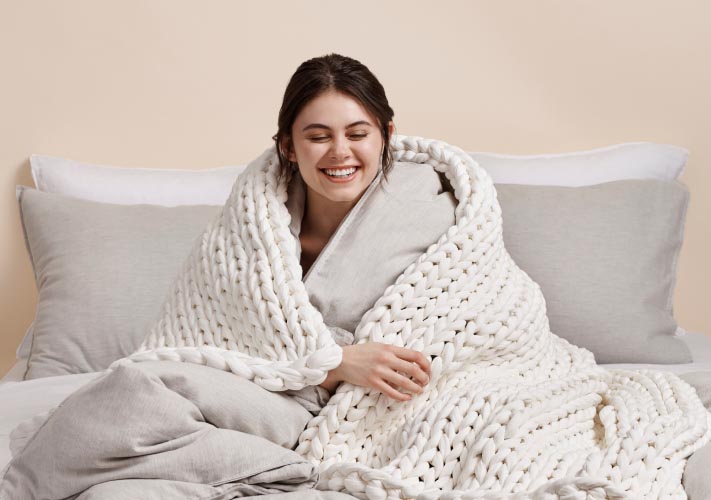 If you're on the hunt for a high-quality weighted blanket, this review is for you. Bearaby is a brand that stands out when it comes down to this type of product since it doesn't have any fillers inside but works like magic.
The Tree Napper is a hand-knit weighted blanket designed to calm your body by providing deep pressure stimulation.
Made entirely from plant-based materials to create an eco-friendly version that does exactly what it says it should – allow you to sleep much deeper at night, and even just having it on will make you calm and comforted.
Designed with sustainable material Tencel (also known as lyocell), this product is known for its super-smooth feel. Lyocell comes from the wood pulp of Eucalyptus trees, hence the name Tree Napper.
You can choose from three weight options: 15, 20, 25 lbs, and three sizes, which are 40"x72", 45"x72", and 48"x72". Bearaby lets you pick from five beautiful pastel colors that give it the final touch that creates perfection.
Most people will think that a blanket of the sort will be too hot. However, they don't know that Tencel is a fabric that encourages airflow and keeps you from overheating.
We can safely say that this blanket is quite cool since the loops allow air to flow freely, and the airy fabric is also highly breathable. Since there aren't any plastic fillers inside, the uncomfortable heat is avoided altogether.
How does a cooling weighted blanket work?
Since weighted blankets are quite heavy and usually bulky, people think that they are only suitable for cold winter nights. However, that's not the case since the cooling version prioritizes moisture-wicking materials like cotton, bamboo, and Tencel to help air circulation and temperature control. You don't have to worry about being too hot because those breathable fabrics will be able to regulate and maintain a comfortable sleeping temperature.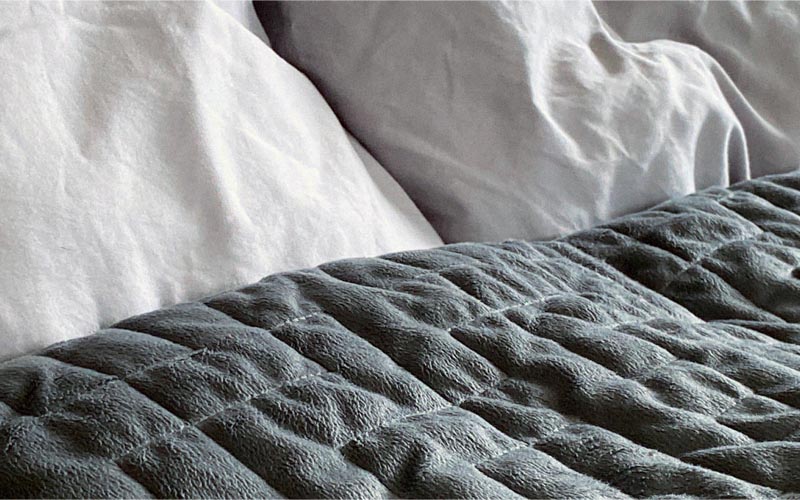 What is the best blanket to keep you cool?
Through the years, Gravity has grown to be one of the well-known weighted product manufacturers on the market today. It became an established brand in the sensory blankets industry and an overall top competitor. They are known for their weighted products, and the Gravity Cooling Blanket is no exception. This product is hands down the best option out there because it is comfy, well-built, and above all, it actually helps people with sleeping issues.
Overall, the Gravity easily edges the competition in the choice for the best blanket out there. It is somewhat reasonably priced for such a product. The raving reviews online can support our findings as well, so if you're on the market for an adult weighted blanket that will keep you cool, Gravity is the one!
Final words
Weighted blankets have skyrocketed in popularity because getting quality sleep and stress relief, have become two of the most sought after things right now with our busy and fast paste lives. After many months of testing numerous options, we picked the best five products we could find.
Everyone wants the positives of sleeping with such blankets without getting hot, which is why we've created this article in the first place. Studies have shown that these beauties can reduce anxiety, improve sleep, and mood. Hot sleepers don't have to worry about the warm summer nights any longer. They can grab one of our favorites and have a peaceful and restful night's sleep.